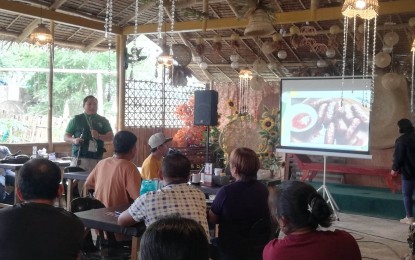 SAN JOSE DE BUENAVISTA, Antique – The Department of Agriculture (DA) is urging hog raisers to assist the Provincial Veterinary (ProVet) Office in border checkpoints to maintain the African swine fever (ASF)-free status of Antique province.
Dr. Jonic Natividad, DA Western Visayas Regional Focal Person on ASF and Other Animal Diseases Task Force, said ProVet staff manning the border checkpoints must be exhausted in their 24/7 operations.
"Hog raisers should help in the implementation of the border checkpoints to protect their livelihood," he said in a forum attended by the Sibalom Livestock and Poultry Raisers Association (SILPRA) at the "Durog ni Isko" restaurant in the municipality of Sibalom on Friday.
Border checkpoints are established in the municipalities of Pandan and Libertad in the northern part of the province and Hamtic and Anini-y in the southern part to ensure that no hog, pork, and pork-based products from areas affected by the ASF could enter the province, the only one in Western Visayas that has no ASF cases to date.
Natividad encouraged hog raisers to implement biosecurity measures, including wearing of protective gear, using disinfection such as agricultural lime on footbaths, and controlling access of people who might be carriers of the disease.
"The ASF virus is heat-resistant that even on cooked food items such as chorizo, and tocino could survive," he said.
Elma Peña, president of SILPRA, said their organization will provide agricultural lime that will be scattered at hog pens in the public market's slaughterhouse as a preventive measure against ASF.
"We will be meeting on how to assist in the border checkpoint," Peña said.
SILPRA has 608 backyard hog raiser-members and transports at least 60 heads of hogs outside of Antique weekly. (PNA)