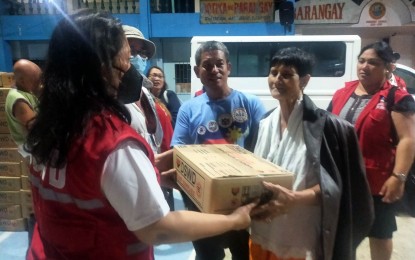 ILOILO CITY – Over PHP1.15 million worth of assistance was released to 4,299 families in Western Visayas affected by the southwest monsoon and enhanced by Typhoon Betty from May 27 up to June 1, according to the Department of Social Welfare and Development (DSWD) on Friday.
"They are families affected/displaced due to heavy rains, flood, strong winds caused by the southwest monsoon and enhanced by typhoon Betty," said Therese Fely Legaste, DSWD Disaster Risk Reduction and Management Division information officer in an interview.
The affected families were from Aklan with 58, Antique has 1,099, Iloilo province with 85, Negros Occidental with 1,197, and Iloilo City with 1,860 families.
"In Iloilo City, (affected) mostly are families living near the creek in Barangays Bolilao and Bakhaw. There was also flooding in other barangays like in Jaro district," Legaste added.
Of the 4,299 families or 17,985 individuals from 112 barangays, only 523 families are still inside evacuation centers, 48 families are staying with their relatives and friends while others already returned to their homes.
The assistance came from local government units that provided hot meals and relief assistance worth PHP224,887 while the DSWD has augmented PHP921,586 worth of food items.
Meantime, as of June 1, the department has a PHP91.6 million total standby fund and stockpiles consisting of PHP44.17 worth of family food packs, PHP42.42 million non-food items, and PHP5 million standby fund for Western Visayas.
It has 68,879 total available family food packs; 47,489 are prepositioned in various local government units, 10,298 at the regional warehouse in the municipality of Oton, and 11,092 at the warehouse in Bacolod City. (PNA)