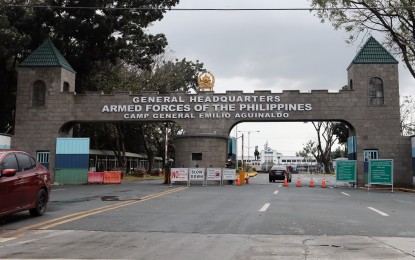 MANILA – The Armed Forces of the Philippines (AFP) on Friday reported that focused military operations against the communist and local terrorist groups have resulted in the neutralization of 163 of its members last May.
In a statement, Col. Jorry Baclor, AFP public affairs office chief, said 27 terrorists were killed, another 125 surrendered while 11 were nabbed during operations last month.
"Against the communist terrorist group (CTG), notable accomplishments were the successful focused military operations conducted by the 62nd Infantry Battalion in Moises Padilla, Negros Occidental and Guihulngan City, Negros Oriental on May 20 to 21, that resulted in the death of 10 communist terrorists and capture of 14 high-powered firearms, various ammunition, explosives, and other war materiel," he added.
Other recent AFP accomplishments include the neutralization of four communist terrorists, including the former leader of the Communist Party of the Philippines (CPP)'s Eastern Visayas Regional Party Committee in Catarman, Northern Samar on May 28 by the 43rd Infantry Battalion.
Meanwhile, the operations conducted by the 68th Infantry Battalion, 2nd Infantry Division in Sablayan, Occidental Mindoro on May 30 resulted in the death of two communist terrorists with firearms and ammunition.
Baclor added that various ground units also recorded the surrender of New People's Army (NPA) terrorists across the country. Most recent and notable were the surrender of four NPAs in General Nakar, Quezon on May 30 by the joint forces of the 80th Infantry Battalion, 1st Infantry Battalion, 70th Infantry Battalion, and Philippine National Police forces; the surrender of nine insurgents to the 94th Infantry Battalion in Ayungon, Negros Oriental on May 25; and the surrender of a female communist terrorist leader identified as "Maui" and two others to the 103rd Infantry Brigade in Marawi City.
Against the local terrorist groups, a total of 43 surrenders and six were apprehended from Abu Sayyaf Group, Bangsamoro Islamic and the ISIS-inspired Daulah Islamiyah.
"The surrender of eight Abu Sayyaf members with seven firearms was notable during the period to the joint elements of the 101st Infantry Battalion and 21st Infantry Battalion in Luuk, Sulu on May 24.
"Another member yielded with an M-14 rifle and ammunition in Malagutay, Zamboanga City to the Joint Task Force Zamboanga on May 25," Baclor said.
He added that the AFP's continuous accomplishments from its successful implementation of the whole-of-nation approach seek to end armed violence in the country through the convergence of civic and military efforts to bring development in conflict-affected areas.
"The AFP leadership lauded the troops for complying with the directive to put closure to the internal security threats as the AFP shifts its focus toward external defense operations," Baclor said. (PNA)