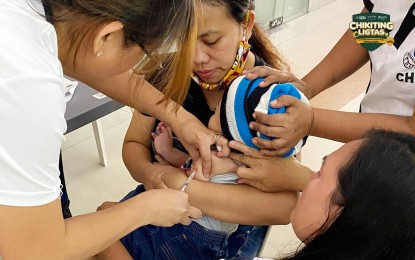 CEBU CITY – Mandaue City posted a 100.3 percent in its accomplishment for the Chikiting Ligtas' measles vaccination, the Department of Health (DOH)-Central Visayas (Region 7) said Friday.
DOH Central Office has extended the Chikiting Ligtas supplemental immunization program (SAP) until June 15, and yet Mandaue City has already administered measles vaccines to 28,371 children, a little over the eligible population of 28,276, said Dr. Eugenia Mercedes Cañal, head of the DOH-7 Regional Epidemiology Surveillance Unit.
Cebu City, on the other hand, posted an 80 percent accomplishment or 66,841 children vaccinated against measles, out of 83,767 eligible population, and Lapu-Lapu City accomplished about 76 percent or 33,936 children out of the 44,714 eligible population.
The other areas that accomplished vaccination against measures are Siquijor at 74 percent or 5,066 of the 6,869 eligible children; Cebu province at about 70 percent or 217,407 of the 311,267 eligible target.
Negros Oriental also posted 70 percent accomplishment or 88,204 of the 126,790 eligible children; and Bohol at 69 percent or 79,488 of the 115,722 eligible population.
Meanwhile, Cañal also reported that Cebu is lagging behind in oral polio vaccination (OPV), as it registered a 13 percent accomplishment or 41,155 children out of 352,498 eligible population receiving their immunization.
The historical city of Lapu-Lapu posted the highest accomplishment in terms of OPV, posting about 88 percent or 39,613 children out of 45,198 eligible population.
After Lapu-Lapu, Mandaue administered 32,611 OPV oral drops, which represents 81 percent of the 40,165 eligible population.
Cebu City administered only 77 percent or 78,785 out of 102,179 children who are eligible for anti-polio vaccine, followed by Siquijor, about 73 percent.
Cañal said the supplemental immunization campaign of the national government aims to vaccinate 95 percent of the total population of children aged 0-59 months for polio and 9-59 months for measles and rubella. (PNA)