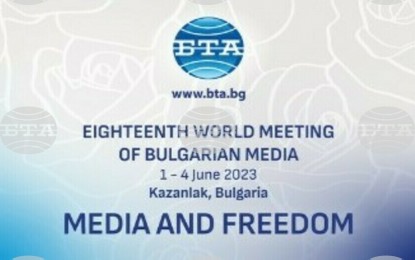 KAZANLAK – The 18th World Meeting of Bulgarian Media, organized by the Bulgarian News Agency (BTA), is taking place in Kazanlak between June 1 and June 4.
The town is celebrating the 120th anniversary of its Rose Festival, which traditionally gathers thousands of guests from all over the world.
The theme of this year's edition of the World Meeting of Bulgarian Media is "Media and Freedom".
Journalists from 33 countries (including Bulgaria), among which representatives of 40 Bulgarian media from 16 countries, participate in the World Meeting of Bulgarian Media in Kazanlak.
The meeting is covered by reporters from agencies partnering with BTA from 12 countries.
Within the framework of the forum, BTA will sign a contract for cooperation and news exchange with the heads of six foreign news agencies.
The official guests of the event include President Rumen Radev, Vice President Iliana Iotova, Foreign Minister Ivan Kondov, Minister of Education and Science Sasho Penov, Mayor of Kazanlak Municipality Galina Stoyanova, esteemed poet Nayden Valchev, author of the classic song "A Bulgarian Rose" to the music of Dimitar Valchev.
The World Meeting of Bulgarian Media will be opened on June 2 by BTA Director General Kiril Valchev, followed by addresses by Vice President Iliana Iotova, Ministers Ivan Kondov and Sasho Penov and Mayor Galina Stoyanova.
Later in the day, the participants and guests will attend a solemn blessing for prosperity on the occasion of the Day of Kazanlak and a parade in memory of national hero and poet Hristo Botev [June 2 is the Day of Hristo Botev and all those who died for Bulgaria].
On the last day of the meeting, June 4, President Rumen Radev will address all participants. (BTA)