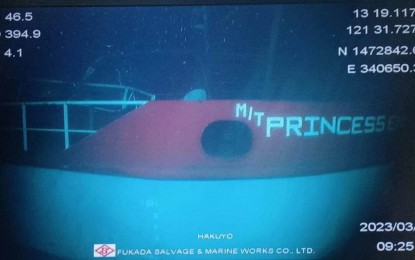 MANILA – The cargo oil tanks (COT) of the sunken M/T Princess Empress in the waters off Naujan, Oriental Mindoro have been opened and several liters of oil recovered in the ongoing siphoning operations.
In an update posted on its Facebook page Friday, the Philippine Coast Guard (PCG) reported that the Malayan Towage and Salvage Corporation has utilized remotely operated vehicles and deployed the "catchcan" to collect oil.
For the ship's COT Number 1 starboard, approximately 50 liters of oil have been recovered and 75 liters from COT Number 1 port.
"COT Number 1 port and starboard hatch covers are open, but no oil is coming out. However, said tanks are in continuous monitoring," the PCG said.
The amount of oil recovered from COT Number 2 starboard and port is yet to be determined.
The PCG noted that COT Number 2 starboard and port is observed to have few amounts of oil.
"The MTSC temporarily closed the said cargo oil tank to continue checking the other two tanks, COTs number 3 (port and starboard) and 4 (port and starboard), for assessment," it said.
The M/T Princess Empress was reported to contain around 800,000 liters of industrial fuel oil.
It ran aground in the waters off Naujan, Oriental Mindoro on Feb. 28 due to engine trouble and sank the next day.
Last Friday, the Dynamic Support Vessel Fire Opal arrived in Subic Bay Freeport Zone to begin extraction of the remaining oil from the sunken vessel.
The vessel extracts the oily waste, transfers to it to a tanker and disposes it.
The siphoning operations is expected to last up to 30 days. (PNA)