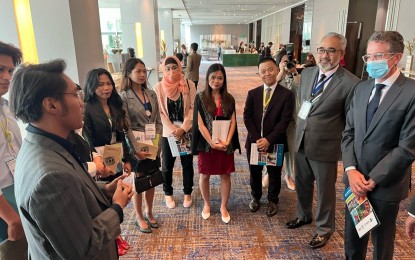 MANILA – The United States will earmark over PHP20 million for two new grants to help Philippine higher education institutions (HEIs) improve the lives of Filipino out-of-school youths, the US Embassy in Manila said Friday.
The first grant called the O2 GAIN will address local development priorities for out-of-school youth while O2-ASPIRE will support partnerships between Philippine and US HEIs on youth advancement.
Both will be implemented under the US Agency for International Development's (USAID) Opportunity 2.0 program.
The grants will also help fund academic research, develop technological solutions and enhance the quality of services for out-of-school youth.
"Working together, we have been able to make progress and open doors for thousands of out-of-school youth to better education, employment, and entrepreneurship opportunities," said USAID Mission Director Ryan Washburn.
The funding was formally announced last May 30 during a higher education learning summit in Quezon City, which brought together more than 200 USAID partners from across the country.
To date, Opportunity 2.0 has supported around 35,000 Filipino youth by helping them gain employment, start their own businesses, or go back in school.
Joining Washburn in the summit were Quezon City Vice Mayor Gian Sotto and Commission on Higher Education Chairperson J. Prospero De Vera, who reiterated CHED's full support for the Opportunity 2.0.
Sotto, for his part, looked forward to the support the HEIs would provide to allow out-of-school youths return to studying.
"Education is the cornerstone of all progress, and higher education institutions play a pivotal role in order to accomplish this as they serve as homes for training the minds of the youth and preparing them for the challenges of the ever-evolving world," he said. (PNA)