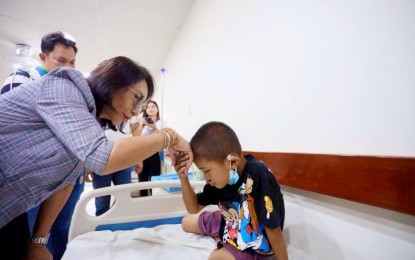 CEBU CITY – Sixty children aged five months to 14 years are now undergoing surgery for their cleft palate or cleft lip, the Cebu provincial government said Friday.
Gov. Gwendolyn Garcia said the five-day surgical mission for children suffering from deformed roof of the mouth or lips started Wednesday.
She said the provincial capitol collaborated with various non-profit organizations, such as Mabuhay Deseret Foundation, JCI Mandaue, Craniofacial Foundation of the Philippines, MandaWe Smile, Smile Train, International Pharmaceutical Inc., and Intellicare.
"A gift of a smile is a gift of life," the governor said in a statement, as she described the significance of giving children with palate anomalies free surgical service at Cebu Provincial Hospital in Danao City, north of Cebu province.
Sandiganbayan Associate Justice Geraldine Faith Econg, who works with the Mabuhay Deseret Foundation, attended the opening ceremony on Wednesday.
Among the recipient was a 9-year-old from Carcar City, whose mother was profuse with gratitude for the volunteer doctors.
"We are happy. My daughter is very happy that his cleft palate problem has been solved. She's got the sweetest smile now," she said. (PNA)