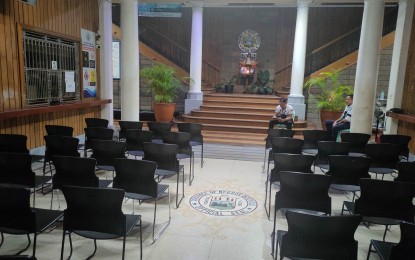 DUMAGUETE CITY – The provincial government of Negros Oriental is in the thick of preparations to provide the highest possible honors for the late Governor Carlo Jorge Joan "Guido" Reyes during his wake and funeral rites.
Newly concurred Provincial Administrator lawyer Fran Tolcidas told the Philippine News Agency on Friday that the remains of the 62-year-old Reyes will arrive Saturday morning.
His remains will stay at the capitol building for a few hours so that his colleagues, government officials and other private sector representatives could pay their last respects.
Tolcidas said it is the wish of the family that the remains of Reyes be brought immediately to his hometown, Guihulngan City, where public viewing will be held.
"We are expecting visitors on Saturday, including Reyes' colleagues, government officials such as mayors, and other private sector representatives, to pay their last respects to the former governor while at the Capitol, and that is what is keeping Gov. Chaco Sagarbarria busy right now," Tolcidas said.
The provincial administrator will be given arrival honors at the Dumaguete-Sibulan airport, ceremonial guards at the wake, and other military honors during the burial.
Reyes died of a terminal illness on Wednesday at a hospital in Metro Manila, less than three months after he assumed as governor following the death of his predecessor, Gov. Roel Degamo, who was assassinated last March 4 in Pamplona town.
Tolcidas said the Sangguniang Panlalawigan concurred his appointment as the new provincial administrator, replacing lawyer Karen Lisette Molas, who served in the same capacity under the Reyes administration.
Sagarbarria also has a provincial legal officer in mind, but Tolcidas said he does not want to preempt the governor's announcement.
A special session was held earlier on Friday on the turnover of official documents and matters regarding official signatories, Tolcidas said.
Except for the new governor visiting the different office heads, no other announcements or changes have been made yet out of deference to the late Reyes, he added.
Sagarbarria is holding office at the Legislative Building for now and will only occupy the governor's office once Reyes has been laid to rest or at least transferred to Guihulngan, Tolcidas said. (PNA)