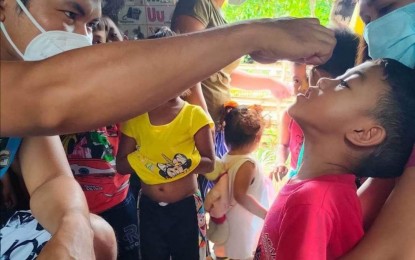 SAN JOSE DE BUENAVISTA, Antique – The search for children that have yet to avail of vaccination under the Measles-Rubella and Oral Polio Vaccine Supplemental Immunization Activity (MR-OPV SIA) is ongoing in Antique.
Vaccinators have to locate 16,677 children nine to 59 months old to reach 95 percent coverage for the MR and 29, 431 children zero to 59 months old for the OPV.
Irene Duldoco, Antique Integrated Provincial Health Office (IPHO) information officer, said in an interview Friday that health workers in the 18 municipalities of the province conduct the rapid coverage monitoring (RCM) with the extension of the SIA for another 15 days.
"Since the MR-OPV SIA had been extended from June 1 to 15, we are maximizing our time now to reach out to other children," she said in dialect.
Dulduco said that 38, 871 children or 66.48 percent of the 58,472 children targeted for the MR were vaccinated since the start of the campaign on May 2.
Also, 35,491, or 51.93 percent of the 68,339 target children for OPV have availed of the vaccination for the same period.
"Through RCM, the health workers will be reviewing their master list of targeted children so they could visit those who had not been immunized during the MR-OPV SIA in the barangays," Duldoco said.
She added that children who turned nine months within the extension period will also be provided with the OPV.
The information officer added though that there were health workers who found out that the DOH-provided target was higher than the actual population in their barangays.
"With the extension of the MR-OPV SIA, we will really make sure however that there will be no missed child," Duldoco said. (PNA)