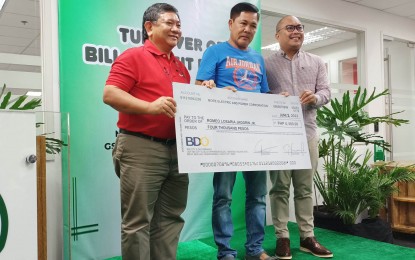 ILOILO CITY – Consumers who religiously paid their electric bill for the last 36 months can claim a refund of their bill deposit, according to an official of the Energy Regulatory Commission (ERC).
ERC Commissioner Alexis Lumbatan said being prompt in settling electric bills is one of the two ways consumers can demand a refund.
The other is during the termination of a contract as provided for in Article 7 of the Magna Carta for Residential Electricity Consumers.
"Within three years if you fail to pay your monthly due on time, then you can no longer qualify. So your three years should be unblemished in paying on or before your due date," he said in an interview over the weekend on the sidelines of the release of claim deposits by the More Electric and Power Corporation (MORE Power) to its three consumers.
Distribution utilities (DUs) require a bill deposit from new or additional services equivalent to one month of billing as a payment guarantee.
"Of course, there's nothing which can stop the DU by itself telling consumers to get the refund of the bill deposit since they have qualified," he added.
Lumbatan led the awarding of the refund for bill deposits to consumers Baby Jean Agustin, Romeo Jagorin Jr., and Emmanuel Lazaro Improgo at the DU's corporate office three years since it took over the distribution franchise in Iloilo City.
Jagorin received PHP4,000, while Improgo and Agustin got PHP2,500 each.
The refund is a milestone for MORE Power because it was the first time in Iloilo City that a bill deposit was refunded to consumers.
MORE Power president Roel Castro said that for the rest of the year, if consumers they identified will pay their dues on time, then they will be returning bill deposits of over PHP5 million.
"This is really going to be I would say ordinary for us because we would like it back to the customers because after all this is really hard-earned money of the customers. That's one side, the other side is we are following the law. The law says we have to return it," he said.
MORE Power is serving some 93,000 customers through 31,028 connections installed and around 62,000 existing consumers of the previous DU. (PNA)