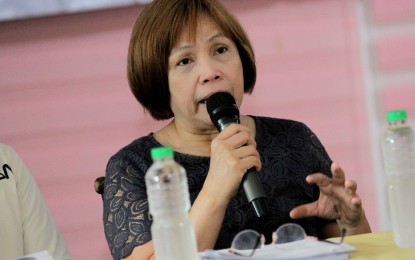 MANILA – The Maharlika Investment Fund (MIF) would be invested in profitable infrastructure projects, easing pressure on the government to secure more loans, National Treasurer Rosalia De Leon said Saturday.
Once signed, the MIF would enable the government to free up its fiscal space to fund other programs, such as social protection for vulnerable sectors.
"[T]he national government is operating on a fiscal deficit so ngayon kailangan natin umutang para mapondohan iyong mga infrastructure project natin. Dito po mababawasan pa iyong pressure na pangungutang dahil nga po the Maharlika is equity investments (so now we need to borrow to fund our infrastructure project. With this, there will be less pressure to loan because Maharlika is equity investments)," De Leon said during the Saturday News Forum in Quezon City.
De Leon said MIF could also serves as a vehicle to attract foreign fundings since it would be invested into the administration's priority programs.
The Marcos administration currently has at least 194 flagship infrastructure projects costing PHP9 trillion.
The MIF will get an initial PHP50 billion funding from Land Bank of the Philippines (Landbank), PHP25 billion from the Development Bank of the Philippines (DBP), and PHP50 billion from the national government (NG).
Another PHP125 billion would come from the national government, its agencies, and government-owned and controlled corporations or government financial institutions, except the Social Security System, Philippine Health Insurance Corporation, Home Mutual Development Fund, Overseas Workers Welfare Administration and Philippine Veterans Affairs Office pension fund.
The Bangko Sentral ng Pilipinas (BSP) will contribute 100 percent of its total dividends for the first two years while the Philippine Amusement and Gaming Corporation will give 10 percent of its income for five years.
BSP's contribution to the MIF will not threaten its financial stability, assured Finance Secretary Benjamin Diokno.
"The contributions being asked from BSP for the first two years of the MIF, for a maximum of PHP50 billion, are dividends declared in favor of the national government. That's the net profit of BSP and the NG decides how to use it," Diokno said in a Viber message to the media on Friday.
Allaying concerns, De Leon said Landbank's share represents only about three percent of its PHP1.3 trillion investible funds, leaving enough resources for loans for agriculture and other sectors.
DBP's contribution, on the other hand, would be about 2.7 percent of its PHP850 billion investible funds, she said.
According to De Leon, the concept of a sovereign wealth fund and its use by other countries had evolved over the years.
"[N]ag-evolve na po through the years dahil ginagamit nga po nila ang ganitong klaseng mga funding mechanism para to attract mga inflow (It evolved over the years because they use these kinds of funding mechanisms to attract inflows), mga private capital to be able to co-invest into the domestic and also into the national government investment funding sources," she said.
"It would really be a very useful vehicle for us to be able to achieve promptly and timely ang ating (our) objectives in terms of our national development."
Further, De Leon said ample safeguards would be placed to protect the fund and deter any acts of fraud, graft and corruption.
In addition, internal and external auditors would be assigned to look into the use of the funds in line with rules and regulations.
Department of Budget and Management Undersecretary Joselito Basilio, for his part, said the version of the bill approved by Congress requires that the MIF be run by professionals.
"[T]hose who are professionals in the financial market are the ones who will make decisions of course guided by the investment and other risk management guidelines that will be formulated by the board, iyong (the) consultation of course with the advisory body," he said.
The MIF bill, approved by the Senate and the House of Representatives on May 31, is awaiting the signature of President Ferdinand R. Marcos Jr. (PNA)