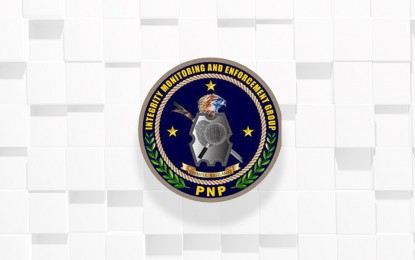 MANILA – A police station commander in Angeles City in Pampanga and six other policemen were nabbed for alleged unlawful arrest and arbitrary detention of 13 civilians.
Agents of the Philippine National Police (PNP) anti-scalawag unit arrested station commander Maj. Marvin Aquino, M/Sgt. Romulo Meligrito, S/Sgts. Nikko Dave Marquez and Mark Steven Sison, and Corporals Richard Gozum, Diosdado Villamor Jr. and Jaypee Mangilit on Friday, according to a statement released by Brig. Gen. Warren de Leon, chief of the Integrity Monitoring and Enforcement Group (IMEG), over the weekend.
De Leon said the planned operation also resulted in the arrest of a civilian asset identified as Esmael Arviola for illegal possession of a .38-caliber revolver with four live ammunitions.
The operation stemmed from the complaint of the daughter of recently arrested drug offender, who claimed the suspects asked for PHP30,000 in exchange for the lesser offense of illegal gambling instead of violations under Republic Act 9165 or the Comprehensive Dangerous Drugs Act.
The alleged offender was arrested in Angeles City on May 28 by Police Station 2 agents.
"During the conduct of inspection at the PUPC (person under police custody) detention cell, it was found out that 13 persons were arbitrarily detained without any single complaint filed against them up to the time of operation," de Leon said.
"Further, no entry at the official police blotter and in the CIRAS (crime information reporting and analysis system) of the station in relation to the arrest and other circumstances causing the (continuous) detention of the victims."
In another statement, Police Regional Office-3 (Central Luzon) director Brig. Gen. Jose Hidalgo Jr. reaffirmed their "continuous commitment in support of the Internal Cleansing Program to cleanse the ranks and identify rogue PNP members whether they are active, retired, or dismissed from the service."
He said the arrested cops were immediately relieved from their posts.
The suspects are detained at the IMEG custodial facility in Camp Crame, Quezon City.
The IMEG is the primary PNP unit going after erring policemen while the Internal Affairs Service is in charge of initiating administrative charges. (PNA)