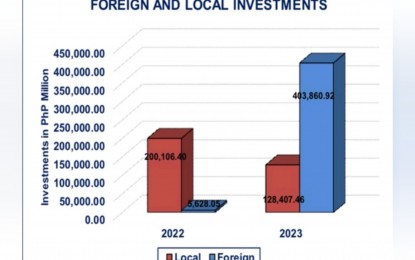 MANILA – Approved investments from foreign sources at the Board of Investments (BOI) posted a significant increase in the first five months of the year.
Department of Trade and Industry (DTI) Undersecretary and BOI managing head Ceferino Rodolfo told trade reporters in a Viber message over the weekend that foreign investment approvals surged in January to May this year by 7,076 percent to PHP403.86 billion from PHP5.63 billion in the same period in 2022.
Investment pledges from foreign sources now have the largest share in BOI approvals at 76 percent.
The BOI approved PHP532.27 billion in investment pledges from January to May, more than double the project registrations last year at PHP205.73 billion.
The pledges came from 106 projects registered with the investment promotion agency, which are expected to create 18,883 direct jobs.
Big ticket projects approved by the BOI in the early parts of the year were renewable energy, especially offshore wind projects.
Trade Secretary and BOI chair Alfredo Pascual earlier said BOI approved three offshore wind projects worth PHP390 billion in the first quarter of 2023 alone.
Last year, the DTI chief's letter to the Department of Justice (DOJ) prompted the latter to issue an opinion that natural resources, including renewable energy, were not covered by the constitutional limitations on foreign ownership.
The DOJ opinion allowed the amendments to the Renewable Energy Act, particularly allowing foreign investors' 100 percent ownership on renewable energy projects.
On Friday, Madrid-based BlueFloat Energy announced that it has chosen the Philippines as the location of its biggest offshore wind projects with 7.6 gigawatts of planned capacity.
BlueFloat executives said the company has yet to register the projects with the BOI despite securing the service contracts from the Department of Energy.
Rodolfo said the BOI has PHP1 trillion investment pledges in the pipeline for the year.
BOI targets to hit PHP1.5 trillion in investment approvals by the end of 2023. (PNA)