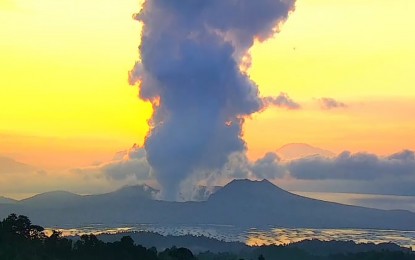 TALISAY, BATANGAS – The Philippine Institute of Volcanology and Seismology (Phivolcs) has monitored an increased degassing activity from Taal volcano since Saturday night in the form of visible upwelling of volcanic fluids.
In an advisory on Sunday, Phivolcs said the "fluids in the main crater lake produced voluminous steam-rich plumes that rose to 3,000 meters above Taal Volcano Island (TVI)."
As a result, volcanic smog or "vog" was visibly seen over the caldera of Taal, which was reported by the residents of the municipalities encircling the lake, including Balete, Laurel, and Agoncillo.
Acid rain is also expected over areas where the plume disperses, which is also expected to damage crops and affect metal roofs of houses and buildings.
According to Phivolcs, there was likewise an increase in volcanic sulfur dioxide gas emission from the main crater of the volcano as recorded on June 1, totaling 5,831 tons/day, which was higher than last month with just an average of 3,356 tons/day.
Phivolcs reminded communities vulnerable to the vog's effects to be mindful, especially the elderly, pregnant, children, and those people with health conditions such as asthma, lung disease, and heart disease.
The people in the affected areas are encouraged to stay indoors and shut doors and windows to block out vog.
Phivolcs cautioned that while Alert Level 1 prevails over the Taal volcano, "it is still in abnormal condition and should not be interpreted to have ceased unrest nor ceased the threat of eruptive activity." (PNA)