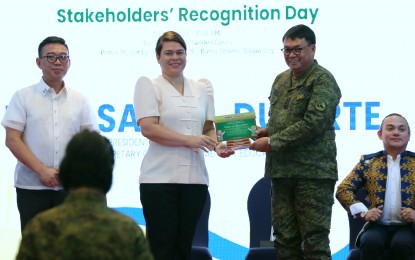 DAVAO CITY – Vice President Sara Z. Duterte has lauded the efforts of stakeholders who helped the teaching and non-teaching personnel of the Department of Education (DepEd) in the Bangsamoro Autonomous Region in Muslim Mindanao (BARMM) during the observance of Ramadan from March to April.
In her speech during the Soccsksargen stakeholders recognition day here on Sunday, Duterte, the concurrent Education Secretary, personally thanked the Armed Forces of the Philippines (AFP) and other joint task forces for allowing DepEd to reach and extend help to some 37,369 personnel.
"Thank you for allowing your teams to provide the manpower, transportation, and assistance during the distribution of food packs in Mindanao. Your assistance in times of crisis proved your commitment to protecting our country's national security and ensuring the well-being of all Filipinos," she said.
Duterte bared that in March this year, DepEd provided food packs to the Bangsamoro Autonomous Region in Muslim Mindanao (BARMM) through the Pahalipay sa Ramadan as an expression of solidarity to their colleagues for serving a month of fasting.
Pahalipay sa Ramadan is a message of gratitude that seeks to reach out to the teaching and non-teaching personnel in the BARMM.
It is in accordance with the fourth critical component of the DepEd's MATATAG: Bansang Makabata, Batang Makabansa Agenda which highlights giving support to teachers for them to teach better, waving the flag of inclusivity and access in the department.
Duterte also handed the plaques of recognition to the stakeholders, hoping that it may serve as a reminder to all of the public servants of the immense power of unity and acts of kindness, cooperation, and community service.
"May our humble recognition inspire you to continue serving the country with dignity and pride and may the plaques of recognition remind you of how much the Filipino people value and appreciate your vital contributions, especially in helping rebuild communities, and schools in the Bangsamoro," she added.
Duterte also vowed that the Office of the Vice President and DepEd will be working hard in bringing more peace-building efforts to conflict-affected communities.
"By joining forces, we continue to propel our country towards sustainable, equitable, and inclusive progress," she said. (PNA)