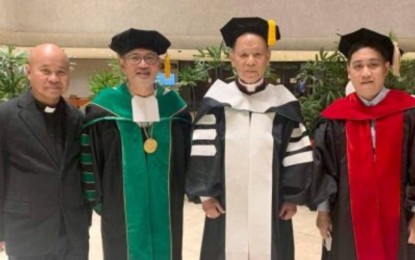 MANILA – Manila Archbishop Jose Cardinal Advincula has been conferred an honorary degree by his former school, the De La Salle University (DLSU) in Taft Avenue, Manila.
According to an article posted on the Catholic Bishops' Conference of the Philippines (CBCP) on Monday, the Manila archbishop received the degree of Doctor of Philosophy in Applied Theology, honoris causa, by the university run by the De La Salle Brothers.
In his address, Advincula urged the graduates and students of the university "to be agents of listening," noting that "much of the world's difficulties can be solved or surpassed if we listen."
"Please, listen to God and listen to the signs of the times," he said. Incidentally, the cardinal's episcopal motto is "Audiam," a Latin word for "I will listen".
"Personal encounters, sense of beauty, and culture of listening: these are pathways to holiness and evangelization in our time," the archbishop added.
He also asked them to spread the word of God.
"Fellow Lasallians, be the saints and evangelizers in today's world. Witness to the joy of the Gospel, wherever you go," Advincula said.
He noted that saints and evangelizers, according to him, are not only those who wear frocks and veils, locked up in monasteries and convents.
"They can also wear jeans and sneakers, watch movies, hang out with friends, surf the internet, hit the dance floor, grab some pizza, and even have some beer," he added.
The awarding coincided with the DLSU-Manila's 195th Commencement Exercises at the Philippine International Convention Center (PICC) on June 3.
The cardinal obtained his Master's degree in Education major in Guidance and Counselling from DLSU. (PNA)