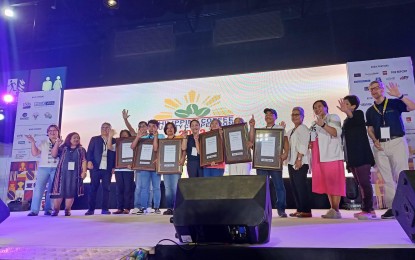 LAOAG CITY–Bigger market opportunities await Ilocos Sur's "robusta" coffee as it bagged 10 out of 12 top awards in this year's Philippine Coffee Quality Competition (PCQC), an annual search for the best coffee in the country.
For the third time in a row, local coffee growers in the upland towns of Gregorio del Pilar and Sigay in Ilocos Sur province emerged as grand slam winners for the fine robusta coffee category.
The robusta coffee entries of Vilma Lasan, Mabini Ubuan, Juana Bitongan, Marieta Lidem, Jean Apalet, Bryon Daplayan, Silvestra Villegas, Erlinda Daoayan, Jordan Dalida and Marielle Gannad emerged in the top 12 with 85.22 score as the highest.
They received their plaque of recognition during the awarding ceremony, one of the highlights of the Philippine Coffee Expo event held at the World Trade Center in Pasay City, Metro Manila Sunday afternoon.
Robusta is one of the four varieties of coffee cultivated in the Philippines. The others are arabica, liberica, and excelsa.
Proud of this latest achievement, provincial director Rosario Quodala of the Department of Trade and Industry (DTI) based in Ilocos Sur said on Monday that the coffee industry in the province looks promising.
"The DTI has been continually assisting them in their production and processing of quality coffee beans," Quodala said in an interview as she cited coffee as one of the priority industries in the region.
Now in its 6th year, the annual PCQC is being organized by the DTI, together with the Department of Agriculture, Barista and Coffee Academy of Asia, Inc., the Agricultural Cooperative Development International, Volunteers in Overseas Cooperative Assistance, and the Philippine Coffee Guild to unite, empower, and nurture the Philippine coffee community through friendly competitions.
Through the competition, locally produced coffee products have a chance to be recognized in the global coffee industry and be open to more marketing and better pricing opportunities for Philippine coffee farmers.
At least 54 percent of the coffee produced in the region is the robusta type, followed by arabica at 39 percent, according to the 2021 data from the DTI.
"We hope this victory will spark more significant interest and support for our Ilocos coffee growers, encourage them to maximize their capacity and achieve optimal premium quality coffee," said one of the local cafe owners in Ilocos Sur, who has been brewing locally-sourced coffee in the region. (PNA)