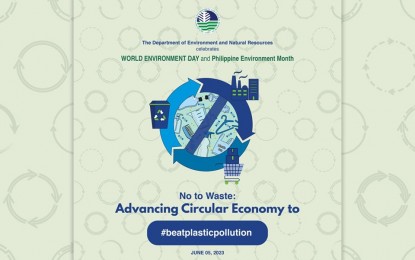 MANILA – As the country celebrates Philippine Environment Month this June, the Department of Environment and Natural Resources (DENR) has vowed to fight the worsening plastic pollution in the country through the promotion of a circular plastic economy.
DENR Secretary Antonia Loyzaga, in a news release issued on Monday, said she wants to promote reuse, recycling and responsible management of plastic waste during and after use to enable a lower greenhouse gas emissions plastic economy.
In January, Loyzaga signed the implementing rules and regulations (IRR) of Republic Act 11898, or the Extended Producer Responsibility (EPR) Act of 2022.
"The EPR law aims to address the mismanagement of plastic waste and uphold circularity through maximizing the material value of plastics as it serves as the environmental policy approach and practice that requires producers to be environmentally responsible throughout the life cycle of a product, especially its post-consumer or end-of-life stage," Loyzaga said.
By virtue of Proclamation No. 237 signed in 1988 by President Corazon Aquino, the month of June was declared Philippine Environment Month to raise environmental consciousness among Filipinos.
The DENR led the local celebration of World Environment Day, with the theme "No To Waste: Advancing Circular Economy to #BeatPlasticPollution," with a tree-planting activity at Ninoy Aquino Parks and Wildlife Center in Quezon City on Monday.
A forum was also held at the DENR central office in Diliman, together with strategic partners from the private sector, where best practices on plastic waste management were shared.
According to the United Nations, over 400 million tons of plastic are produced worldwide every year, one-third of which is used just once. It also said that every day, the equivalent of over 2,000 garbage trucks full of plastic is dumped into the world's oceans, rivers and lakes.
In a separate event also on Monday, the DENR - Environmental Management Bureau recognized women's organizations and their significant contributions to the planning, implementation, and monitoring of environmental management projects through the "Luntiang Puso - Women in Action for Environment" awarding ceremony.
Cooperation
Meanwhile, Senate President Pro Tempore Loren Legarda urged local government units and other stakeholders to implement environmental laws as she expressed hopes to curb plastic pollution by 2024.
In a statement on Sunday, Legarda renewed her call to comply with Republic Act 9003, or the Ecological Solid Waste Management Act, and for the implementing agencies, led by the DENR, to take strategic actions to ensure compliance.
"With the negotiations rolling, we are hopefully months away from a global plastics treaty that will address the scourge of plastic pollution," she said, referring to the ongoing talks by country delegations, non-government organizations, and industry representatives in Paris, France on a legally binding pact that aims to stop the upsurge of plastic waste.
A report by the Organisation for Economic Co-operation and Development (OECD) in March 2022 said plastic wastes produced globally will almost triple by 2060, with around half ending up in landfills and less than a fifth recycled.
The report estimated that almost two-thirds of plastic waste in 2060 will be from short-lived items such as packaging, low-cost products and textiles.
"If we want a world that is free of plastic pollution, in line with the ambitions of the United Nations Environment Assembly, we will need to take much more stringent and globally coordinated action," OECD secretary general Mathias Cormann said in the report.
More efforts, activities
On June 7, the DENR is set to sign three memoranda of agreement together with the Office of the Vice President for "PagbaBAGo: A Million Learners and Trees" program, Energy Development Corporation for nature-based solutions, and Green Convergence for greenhouse gas accounting.
The DENR, in partnership with the United Nations Development Program Philippines and the Climate Change Commission, will launch the nationwide campaign "LOOPFORWARD: Linking Opportunities and Partnerships Towards Circular Economy through EPR" on June 19 to support the implementation of the EPR law.
The event aims to convene the national government, private sector and other development partners to inform stakeholders on their roles and gather support for the EPR Act implementation.
To spread awareness on marine litter, its impact on communities and wildlife, and empower young people to take action on its prevention as individuals, in their households, and in their communities, the DENR and UN-Habitat Philippines will hold on June 21 to 23 the first Marine Litter Learning Activity.
The activity will be participated in by representatives from youth-led organizations on the environment and officers of Youth for Environment in Schools Organization (YES-O).
Loyzaga emphasized the important role that the youth sector plays in protecting the environment and in fighting the effects of climate change.
She also cited the importance of joining forces with the youth, listening to their ideas, and engaging them in environmental conservation and protection.
As a culminating activity for Environment Month, the EMB will launch on June 30 the Luntiang Puso - Outstanding Community Livelihood Projects Through Local Waste Recovery.
The event aims to recognize livelihood programs initiated by communities to reduce and recover waste. (PNA)