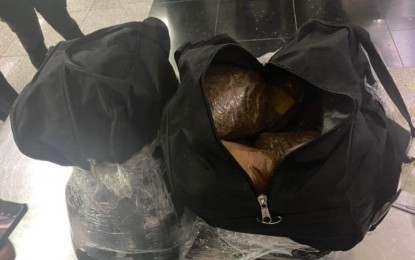 MANILA – A 34-year-old Liberian national was arrested for allegedly trying to slip in illegal drugs worth PHP55.3 million at the Ninoy Aquino International Airport (NAIA), the Philippine National Police Drug Enforcement Group (PDEG) said on Tuesday.
PDEG chief Brig. Gen. Faro Antonio Olaguera identified the suspect as Philip Campbell, a mechanical engineer, who transited via Qatar from Lagos, Nigeria.
Campbell was arrested by the operatives of PDEG, the Philippine Drug Enforcement Agency (PDEA) and the NAIA Inter-Agency Drug Interdiction Task Group (NAIA-IADITG) at the NAIA Terminal 3 in Pasay City around 7:30 p.m. Monday.
The luggage underwent X-ray screening by active operatives of the X-ray Inspection Project (XIP) which flagged the luggage as suspicious, potentially containing illegal drugs.
A customs examiner from the Arrival Operations Division conducted a 100 percent physical examination, revealing 8.14 kilograms of shabu hidden inside yellow powdery spices, with an estimated street value of PHP55.3 million as confirmed by PDEA.
The seized luggage will undergo seizure and forfeiture proceedings as authorities investigate the arrested passenger for violation of Republic Act 9165, or the Comprehensive Drug Act of 2002 and also of RA 10863, also known as the Customs Modernization and Tariff Act (CMTA).
Meanwhile, the Bureau of Customs (BOC) said Campbell was temporarily held by the Bureau of Immigration due to a lack of immigration papers.
BOC Commissioner Bienvenido Rubio, meanwhile, vowed to continue intensifying its efforts and collaboration with other agencies to combat illegal drug smuggling, especially within the country's borders.
The operation was conducted in coordination with PDEA and the NAIA Inter-Agency Drug Interdiction Task Group. (with Stephanie Sevillano/PNA)