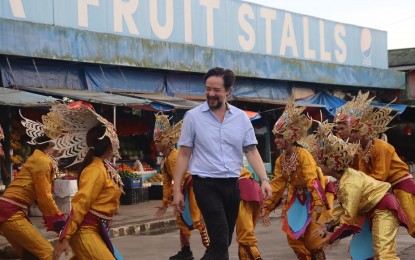 TACLOBAN CITY – The town of Kananga, Leyte will stage its five-day Kaanyag (beauty) Festival on June 7 to 11, showcasing events highlighting local "fragrance, flavor, beauty, and abundance."
In a statement on Tuesday, Mayor Matt Torres said the festivity will feature the best of Kananga's heritage and local talent.
"The Kananga Kaanyag Festival is a celebration of the fragrance, flavor, beauty, and abundance that our beloved town embodies. We cordially invite everyone to join us in this grand launch and immerse themselves in the vibrant culture and rich traditions that make Kananga truly unique," Torres said.
The event will kick off with a mass and the enthralling presentation of festival queens.
On June 8, there will be a Grand Ylang Ylang tree planting. The essential oil that can be extracted from the flower of the tree finds application in many industries, especially in medicine and perfumery.
The less potent essential oils can be used as medium-to-base notes in perfumes and to make such products as cologne, lotion, food flavoring, and soap.
"The planting is a symbolic homage to the splendor and significance of the ylang-ylang flower within the municipality. By participating in this event, you will not only contribute to the preservation of this cherished plant but also gain valuable insights into its cultural and historical importance," Kananga town tourism officer April Tanhueco said in a phone interview.
On June 9, there will be a beauty and personality workshop where participants can acquire valuable tips and techniques. It will be followed by a grand Kaanyag zumba session.
"Dance the night away on June 10th at the Music and Disco Wonderland. This dynamic affair will feature live performances from talented musicians and disc jockeys, guaranteeing a night of infectious rhythms and jubilant revelry," Tanhueco said.
The grand finale of the Kananga Kaanyag Festival will take place on June 11th, showcasing the town's vibrant traditions and exceptional talents.
In the grand float parade, adorned floats will be seen on the streets, accompanied by street dance performers. There is also a coronation of the Festival Queen.
The evening will culminate through grand ritual showdown, featuring traditional performances and cultural rituals.
For more information and updates on the Kananga Kaanyag Festival 2023, please visit the Kananga tourism page on Facebook.
Kananga is a 1st class town in Leyte province with a population of about 60,000. The bustling town near Ormoc City shares a home to Energy Development Corporation's Tongonan geothermal power plant, one of the largest geothermal power plants in the country. (PNA)