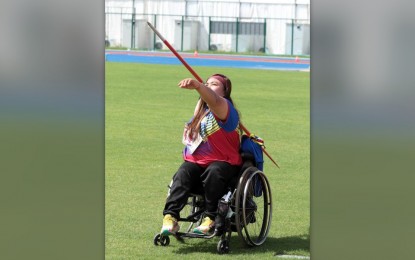 PHNOM PENH, Cambodia – Indonesia continued with its dominating performance in Day 2 of the 12th ASEAN Para Games to remain on top of the medal standings here.
The defending champion has collected 63 golds, including 33 in the athletics competition at the Morodok Techo Stadium on Monday, 49 silvers and 32 bronzes.
Thailand scooped 19 gold medals coming from athletics (9), table tennis (4), swimming (3), powerlifting (2) and judo (1) to remain in second place with a total of 34 gold, 41 silver and 23 bronze medals.
Vietnam ranked third with 29 golds, 26 silvers and 39 bronzes, while Malaysia is in fourth with 23 golds, 17 silvers and 13 bronzes.
Swimming and athletics delivered two golds each for the Philippines, which stayed at fifth with 12 golds, 16 silvers and 17 bronzes.
Myanmar is sixth with a total of six golds, nine silvers and five bronzes followed by Singapore (4-7-6), Cambodia (3-9-11), Timor Leste (2-0-3), Brunei (1-0-1) and Laos (0-1-4).
Meanwhile, 77 golds are stake on Tuesday coming from athletics (24), swimming (29), table tennis (10), powerlifting (8), boccia (5) and judo (1).
A total of 177 gold, 174 silver and 153 bronze medals have been awarded in the event hosted by Cambodia for the first time. (PNA)