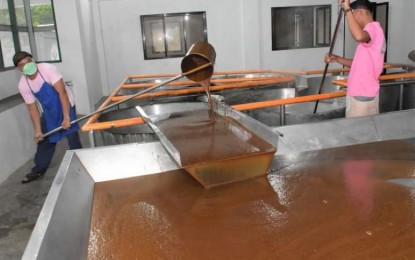 BACOLOD CITY – A government-funded muscovado production and marketing enterprise facility will benefit 382 household-beneficiaries, who are members of proponent group Kalibutan Society Inc. (KSI) based in Kabankalan City, Negros Occidental.
The building located in Barangay Oringao costs almost PHP26 million and was implemented as a sub-project under the Department of Agriculture-Philippine Rural Development Project (DA-PRDP).
The infrastructure component amounted to PHP12.176 million while the enterprise component is worth PHP13.801 million.
Muscovado is unrefined cane sugar with a rich brown color.
As of Tuesday, the construction of an PHP8-million concrete road from the highway going to the muscovado production building has already been approved.
"There is a budget for it. I have already signed the notice of award. It will make the transport of their produce easier for the farmers," Mayor Benjie Miranda said in a statement.
KSI president Antonio Castillo said with the new facility, they can now transition to organic muscovado production, which has a high demand in the consumer market.
The turnover of the project, which was jointly funded by the DA, World Bank, and Negros Occidental provincial government, was led by Governor Eugenio Jose Lacson and DA OIC-Regional Executive Director Jose Albert Barrogo.
"It is a hub where farmers can refine their craft, where modern technologies can be embraced to enhance productivity, and where the legacy of muscovado production can be passed down to future generations," Lacson said during the turnover on June 1.
"By investing in the production and marketing of muscovado, we are not only preserving a time-honored tradition but also seizing the opportunity to create economic growth and sustainable livelihoods for our community."
Barrogo said the implementation of the muscovado production and marketing enterprise facility shows that the government continues to provide assistance to the proponent group.
"KSI, you have a huge exposure in terms of government assistance. Help us in making your members understand that the local government, together with the provincial government and the national government, does not neglect you. This time, it's the government that will rely on you to help your members," he told the beneficiaries. (PNA)