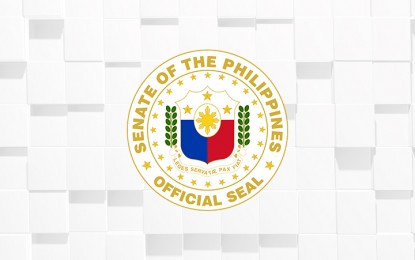 MANILA – Senators expressed full confidence on the capabilities of newly appointed Department of National Defense (DND) Secretary Gilberto Teodoro Jr. and Department of Health (DOH) Secretary Teodoro Herbosa to address two of the most pressing challenges of the country -- protecting territorial integrity and full recovery from the Covid-19 pandemic.
Senate President Juan Miguel Zubiri said Teodoro is a tried and tested public servant who "will head the Department of Defense most capably, particularly amidst this atmosphere of brewing tensions in our waters."
"And we are happy to see the Department of Health helmed by an experienced public health expert under Sec. Herbosa,'" Zubiri said in a statement on Tuesday.
He noted that Herbosa's appointment comes at an opportune time with the Regional Specialty Centers Act having just gotten bicameral approval.
Under the bill, specialty centers will be established under government hospitals across the country in an effort to decentralize the services of the Philippine Children's Medical Center, Philippine Heart Center, Lung Center of the Philippines, and National Kidney and Transplant Institute, which are all located in Quezon City.
"We are hopeful that he will spearhead a truly whole-of-nation approach in the improvement of our public health services," Zubiri said of Herbosa.
Senator Grace Poe said with their expertise and experience in their respective fields, Teodoro and Herbosa can carry on their tasks.
"The new Secretaries are crucial in deciding and implementing strategies in addressing the various health issues we are facing and in upholding the country's territorial integrity against various threats," Poe said in another statement.
"Focus and commitment on the job coupled with straight and true service will fortify our health and defense sectors and deliver the services our people deserve," she added.
Senator JV Ejercito said he expects Herbosa to prioritize the full implementation of the Universal Healthcare (UHC) law after the pandemic exposed the vulnerabilities of the country's public health system.
Ejercito said Herbosa will have a lot of work, especially in supporting and implementing the priority health measures pushed by President Ferdinand R. Marcos Jr., including the establishment of regional specialty centers in DOH-supervised hospitals across the country and adjustments to the Philippine Health Insurance Corporation contribution rates under the UHC law.
"We will be needing the support of the Department of Health in pushing these legislative measures forward and implementing them in the near future," he said.
Ejercito also urged Teodoro to ensure the successful modernization of the Armed Forces of the Philippines.
"We need to expedite these efforts to put up a robust defense posture and reinforce our coastal defenses amidst growing tensions in the West Philippine Sea and South China Sea. For us to stand up to China's bullying and protect our territorial integrity, we need a respectable armed forces that is well-equipped and adequately funded," he said.
Senator Jinggoy Estrada, who chairs the Committee on National Defense and Security, said the appointment of Teodoro is crucial as it ensures continuity and stability, expertise, effective coordination, policy implementation, accountability, and representation in defense and security matters.
"These contribute to the overall efficiency and effectiveness of the defense sector in safeguarding the nation's security," he said in a statement. "I am optimistic that his experience and expertise in defense matters will ensure informed decision-making and effective management of defense affairs, particularly on security challenges." (With a report from Leonel Abasola/PNA)