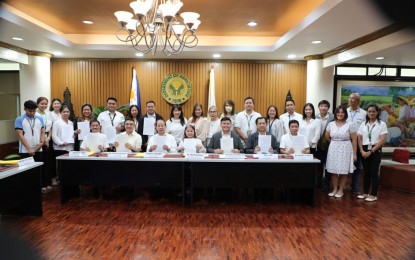 MANILA – The national government and two municipalities in Bataan have joined forces in supporting the Zero Kilometer or "0 KM" food project where they promote and use locally made products.
Agriculture Senior Undersecretary Domingo Panganiban said Tuesday the initiative is part of the commitment of President Ferdinand R. Marcos Jr. towards a food-secure nation.
"This program was announced by our President in his SONA (State of the Nation Address) where he said that it is necessary to complete the value chain of the products we import or buy, but that is not happening because of many obstacles in the municipalities going to the market, especially in Metro Manila," Panganiban said in a statement posted on the department's Facebook account.
The undertaking promotes healthy eating while minimizing the cost and environmental impact of transporting the products.
It supports the use and consumption of locally grown fruits, vegetables, and other non-industrially produced food products that have not traveled far, or more literally that the food has traveled "zero kilometers" before being eaten.
The DA and the municipalities of Dinalupihan and Hermosa, together with the Bataan Peninsula State University signed the memorandum of agreement (MOA) on Monday.
Under the agreement, the BFAR will provide funding for research that will examine the factors influencing supply and demand in the two municipalities, including commodity prices and expenditure movements by identifying the major stakeholders in the market economy and analyzing consumer behavior.
"We, at DA-BAR, support studies and projects like this, because with the 0 km project, we are hitting three important goals: help promote income from local production, reduce marketing cost for increased income for producers and with less pollution from transporting goods, we save our environment – all these towards a healthier and food securer nation," said Bureau of Agricultural Research (BAR) Assistant Director Joell Lales.
Along with Panganiban and the BAR assistant director, the MOA was signed by the Bureau of Plant Industry (BPI) director and national program director of the High Value Crops and Development Program (HVCDP) and National Urban and Peri-Urban Agriculture Program Gerald Glenn Panganiban, Regional Technical Director for Operations and Extensions of DA-RFO III Eduardo Lapuz Jr., Hermosa Mayor Antonio Joseph Inton, Dinalupihan chairperson of the Committee on Agriculture and Fishery Elizalde Torno and BPSU Vice President of Academic Affairs Dr. Thelma Manansala. (PNA)