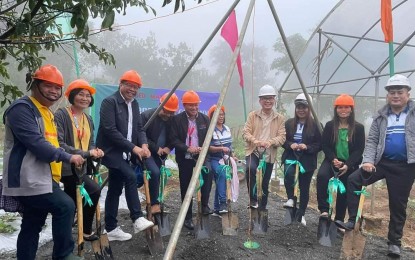 SAN JOSE DE BUENAVISTA, Antique –A new one-classroom building worth PHP2.5 million will welcome Junior High School learners of the Aningalan Integrated Farm School in the municipality of San Remigio in Antique province in time for the opening of classes in August.
Dr. Evelyn Remo, chief of the School Governance and Operations Division of Antique, said in an interview Tuesday that a ground-breaking ceremony was held for the project that was funded through a donation from the Don Esteban Jalandoni Estate and coursed through the Department of Education (DepEd) on June 1.
The integrated farm school, which used to only be an elementary school, is now catering to 158 learners from Kindergarten to Grade 8 since it accepted secondary learners on June 2021.
"The school is now catering to learners from Kindergarten until Grade 8 that the additional classroom is really needed," Remo said, adding that the classroom could accommodate 30 to 40 learners.
The school currently has seven classrooms and there are times when classes are held in makeshift classrooms made of bamboo.
Aside from regular academic subjects, Remo said learners have been introduced to an enhanced curriculum, including the propagation, production, and harvesting of their agricultural products, particularly vegetables with the establishment of the farm school.
Aningalan, considered the "Little Baguio" of Antique, has a cool climate that is suited for planting high-value crops such as cabbage, carrots, and other vegetables.
"The learners are also being taught how to market their products that they are now earning some money for their school allowances," Remo said.
Remo said vegetables that were harvested in school gardens are also used for their feeding program. (PNA)