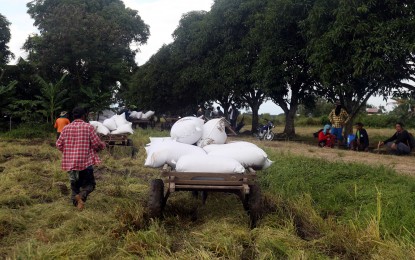 MANILA – Four lawmakers on Tuesday urged the House Committee on Agriculture to study the impact of the use of imported chemical fertilizers on Philippine agriculture and farm productivity amid the administration's promotion of a balanced fertilization strategy (BFS).
Camarines Sur Representative Luis Raymund Villafuerte led the filing of House Resolution 972 to support through meaningful legislation the direction set by President Ferdinand R. Marcos Jr. on finding alternatives to boost palay productivity, such as the BFS that combines the application of organic, inorganic and biofertilizer.
The congressional probe seeks to answer whether chemical fertilizers like urea really cost less than, if not the same as, biofertilizers; and whether organic inputs or biofertilizers have been proven to significantly increase crop yields or are still untested.
Other authors of the resolution are Sta Rosa City Rep. Danilo Ramon Fernandez, Bataan Rep. Albert Raymond Garcia, and Bicol Saro Rep. Brian Raymund Yamsuan.
Last April 27, the Department of Agriculture (DA) issued Memorandum Order No. 32 which sets clear guidelines for DA-Regional Field Offices (RFOs) on how to select and distribute these biofertilizers to increase yield and promote growth in rice production.
The authors said the memorandum aims to combat high price of inputs and promote alternative inputs such as biofertilizers, considering that President Marcos announced at a recent DA sectoral meeting his administration's push for the use of biofertilizers by farmers to cut their use of imported petroleum-based fertilizers.
The lawmakers said high palay production costs affect all rice-eating Filipinos because aside from shrinking the incomes of local farmers, the increasing cost of imported inputs such as synthetic or chemical fertilizers has also impact on consumers, who bear the brunt of the consequent higher prices of rice.
"Our farmers rely heavily on fertilizers and other farm inputs to boost agricultural productivity amid the lack of control over meteorological and other natural conditions," they said.
Villafuerte said the proposed inquiry should make a comparison between the actual costs for, and per-hectare yields of, local growers using organic and inorganic production inputs.
He lauded the President's push for balanced fertilization as it would "finally wean away our farmers from decades of overdependence on costly imported inputs that shrink their incomes and impair the environment."
"Freeing our farmers from the decades-long chokehold of pricey imported chemical fertilizers in favor of the use of biofertilizers or organic inputs is an audacious agricultural policy shift that should have happened a long time back, in order to boost palay productivity, raise farmers' incomes and pull down rice prices while at the same time reversing soil degradation and fighting planet warming," Villafuerte said.
Villafuerte said the BFS would allow the President to deliver on his multi-pronged commitments to modernize Philippine agriculture, slash rice prices, increase farmers' yields and incomes, nurture agribusiness and fight climate change. (PNA)