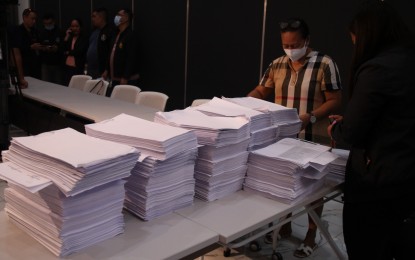 MANILA – The National Bureau of Investigation (NBI) on Tuesday filed criminal charges against 35 individuals before the Department of Justice (DOJ) in connection with the sinking of the M/T Princess Empress off Naujan town in Oriental Mindoro province on Feb. 28.
The NBI - Environmental Crime Division slapped perjury and falsification charges against the vessel's owners, officials and incorporators of the oil tanker and owner RDC Reield Marine Services.
Earlier NBI and police investigation indicated the oil tanker was rebuilt using scrap materials.
The Maritime Industry Authority (MARINA) previously said it has found probable cause to file charges against RDC Reield and issued two cease and desist orders for the firm's Certificate of Public Convenience and its remaining three vessels.
RDC Reield Marine maintained that M/T Princess Empress was a new vessel that fully complied with MARINA guidelines.
The oil tanker was en route to Iloilo to transport 900,000 liters of industrial fuel oil from SL Gas Harbor Terminal in Limay town, Bataan province when it submerged before daybreak, reportedly due to rough sea condition.
A recent update from the Office of Civil Defense said out of the 79.33 kilometers (83.74 percent) of affected coastlines, some 66.433 km have been cleaned.
The National Task Force on Oil Spill Management said the ongoing final phase of the siphoning of the oil spill may take 20 to 30 days.
The oil spill has left PHP58,137,124 worth of damage and losses to fisheries, affected more than 27,500 fisherfolk, and caused 15 local government units to declare a state of calamity.
More than 42,400 families from 107 affected areas in the provinces of Oriental Mindoro, Palawan, Antique and Batangas have been given various forms of assistance.
The Department of Social Welfare and Development said it has distributed more than PHP611 million worth of assistance like family food packs, nonfood items, emergency cash transfers, and cash-for-work in affected communities. (PNA)