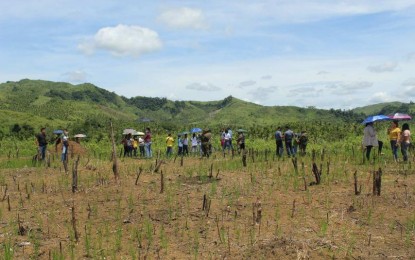 HINABANGAN, Samar - A housing project for former rebels will be established in the town of San Jose de Buan, Samar as part of the government's whole-of-nation approach to end insurgency.
The project, which will be called Peace Village, located near the town center will provide free housing within a 100-square-meter lot to be awarded to each identified former rebel who opted not to return to their respective communities.
The target is to start the project within the year.
"Some who have surrendered don't want to return to their communities out of fear. We are providing a safe place for them to rebuild their lives," Gen. Lenart Lelina, commander of the Philippine Army's 801st Infantry Brigade, said in an interview late Tuesday.
It was not disclosed though how much funds will be allocated for the project.
However, at least 21 government officials, agencies, and non-government organizations have committed to donate while waiting for the budget from the National Housing Authority, the military official said.
The military and the local government have initially identified 17 rebels who will receive free houses made of mixed concrete and wood within the 1.5-hectare property.
There is an ongoing water system project by the local government that will cover the housing site. This is on top of the PHP1 million fund committed by Mayor Joaquin Elizalde for site development.
The price tag for each house is PHP180,000 to PHP400,000, depending on the design.
"Through this housing project, we are hoping to encourage the remaining active members of the New People's Army in the area to surrender," Lelina said.
The proposed village will have permanent houses for former rebels, a training center, and a farm lot for agriculture-related livelihood activities.
It will also accommodate former rebels from nearby Samar towns.
Since 2020, several active NPA members and staunch allies yielded to authorities and turned over several firearms in San Jose de Buan town alone.
The 4th class town with a population of nearly 8,000 is one of the NPA's strongholds in Samar Island, considering its strategic location within the tri-boundaries of Northern, Eastern, and Samar provinces. (PNA)