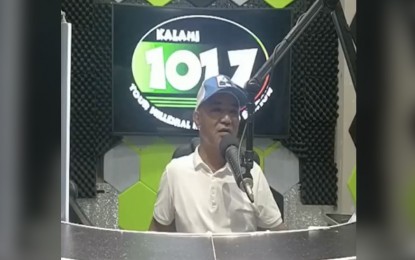 MANILA – The Philippine National Police (PNP) on Wednesday identified the still at-large second suspect behind the killing of radio broadcaster Cresenciano Bunduquin in Calapan City, Oriental Mindoro on May 31.
PNP spokesperson Col. Jean Fajardo, in a radio interview, identified the gunman as Isabelo Bautista Jr.
"Based on our coordination with the (police) provincial director of Oriental Mindoro, he has a previous record related to drugs,"
Fajardo said.
She said Bautista surrendered to the PNP during the height of the government's anti-drug campaign in Oriental Mindoro.
The PNP filed the murder case before the Calapan City Prosecutors' Office on Monday but it initially withheld the suspect's identity, pending the resolution of the case.
Fajardo said Bautista was also charged with attempted murder after he fired at the son of Bunduquin who chased him and his companion.
Bunduquin hosted the program Balitaan at Talakayan aired over the 101.7 FM radio based in Calapan City, and a similar program at the MUX online radio, which he owned.
He was shot dead by two suspects in front of his convenience store.
One of the suspects, Narciso Guntan, died after the son of Bunduquin, aboard a car, chased and bumped the motorcycle used by the suspects.
The other suspect, who turned out to be Bautista, managed to escape.
Oriental Mindoro Governor Humerlito Dolor and the Presidential Task Force on Media Security have offered PHP100,000 and PHP50,000, respectively, for information that would lead to Bautista's arrest. (PNA)