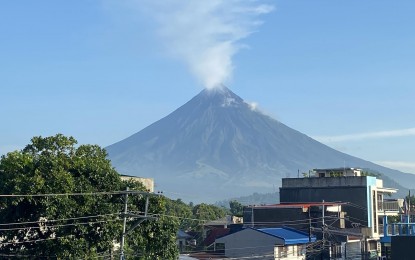 LEGAZPI CITY – The Department of Social Welfare and Development in Bicol region (DSWD-5) and local government units (LGUs) in Albay province are preparing for possible response operations after the Philippine Institute of Volcanology and Seismology (Phivolcs) raised the alert level of Mayon Volcano from 1 (abnormal) to 2 (increasing unrest) early this week.
In an interview on Wednesday, Marygizelle Mesa, DSWD-5 spokesperson, said they began visiting evacuation centers in localities within the Mayon cluster or Mayon-affected areas.
"At least 115 evacuation centers were already readied just in case authorities ordered pre-emptive evacuation. The visit is to ensure that the facilities are safe and are within the standards of evacuation centers," Mesa said.
As of June 6, she said DSWD-5 has a total of 63,928 family food packs (FFPs) and 52,829 non-food items available in its warehouses.
"We also have another PHP8.4 million worth of food items and PHP42.3 million non-food items in the stockpile ready for repacking in anticipation of augmentation. The prepositioned goods were strategically placed to ensure that DSWD will be able to provide assistance immediately," she said.
On top of these, a PHP5-million standby fund is ready for additional purchase of food packs or any kits as needed.
Each family food pack can provide food for two days for a family of five members.
Mesa also said DSWD-5 Regional Director Norman Laurio has ordered the Albay provincial office to coordinate with the different LGUs in their respective areas with regard to the provisions.
"He already ordered these prepositioned in different strategic locations in the region including ports and warehouses. As for our manpower, we have a quick response team (QRT) ready 24 hours if the case is needed," she said.
Meanwhile, Ako Bicol (AKB) Party-List Representative Elizaldy Co is urging residents in the region to exercise caution and cooperate with the government following the raising of Mayon Volcano's alert level.
"We want to assure the people of Bicol that Ako Bicol Party-List is fully committed to supporting and assisting those in need during this challenging time. We understand the potential impact of the raised alert level on the livelihoods and well-being of our fellow Bicolanos. In response, we are prepared to extend our helping hand by providing aid, relief, and necessary resources to ensure that affected residents have uninterrupted access to essential services and the support they require," Co said in a statement.
He emphasized the need for residents to stay informed and adhere to the advisories and precautions issued by the local authorities and Phivolcs. These include following evacuation plans, avoiding the designated danger zones, and being vigilant for any further updates regarding the volcano's activity.
"The Phivolcs' decision came after careful monitoring and assessment of the volcano's activity, which indicated an increased likelihood of volcanic unrest. This decision is a proactive measure to ensure the safety and well-being of the communities residing near Mayon Volcano," Co said.
Co, who is chair of the House Committee on Appropriations, said AKB will work closely with LGUs and relevant agencies to address the immediate and long-term needs of the affected communities.
The LGUs of Daraga, Camalig and Legazpi City have issued advisories prohibiting all activities inside the 6-kilometer permanent danger zone (PDZ), particularly the all-terrain vehicle (ATV) rides as well as mountain climbing, hiking and quarrying operations in connection due to the raised status of the volcano.
They also reminded residents living in valleys and active river channels to remain vigilant against sediment-laden stream flows and lahars in the event of prolonged and heavy rainfall. (PNA)