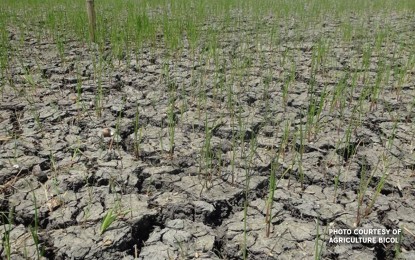 MANILA – Government agencies headed by the Department of Agriculture (DA) are taking necessary actions to prepare the agriculture and fisheries sector ahead of the looming El Niño phenomenon this year.
In a statement Wednesday, the department reported that the first inter-agency meeting was held on June 1 where the DA's National El Niño Team (DA-NENT) and partner agencies from the Food Security Group under the National El Niño Team of the National Disaster Risk Reduction and Management Council (NENT-NDRRMC), discussed the plans and actions to be taken to cushion the effects of the natural phenomenon.
The meeting was in line with the commitment of President Ferdinand R. Marcos Jr. to ensure a stable and affordable food supply for every Filipino.
"We in the DA are doing our best in trying to allocate the resources like seeds, fertilizers, and other commodities that are necessary for the impact of the El Niño phenomenon to the farming communities in the country," Senior Undersecretary Domingo Panganiban said during the meeting.
"With all of us working together, we shall be able to achieve more."
On the other hand, DA Field Operations Service Director and DA-NENT Chairperson U-Nichols Manalo presented the DA El Niño Mitigation and Adaptation Plan for crops, fisheries, and livestock subsectors.
The plan is based on the four thematic areas of the DRRM framework – prevention and mitigation, preparedness, response, and rehabilitation and recovery.
The strategies identified include dissemination of information, education, and communication materials, proper water management, prepositioning of resources, crop diversification, adjustment of planting calendar, buffer stocking of inputs, and promotion of short-cycle and drought-tolerant crops.
At the same time, DA Assistant Secretary for Operations Arnel de Mesa noted that not all areas in the country would be affected, thus the government initiatives could focus more on areas that would be severely hit.
"(The) DA is already preparing for the worst scenario for El Niño this year. Nevertheless, we will be of course expecting PAGASA to provide us regular updates on this. Sana po ay hindi naman magtuloy (We hope that it would not push through), but we should always prepare for the worst-case scenario," he said.
De Mesa also urged the representatives of partner government agencies to facilitate easy access and sharing of information with the DA to guide the planning and decision-making activities.
The members of the DA-led Food Security Group are the departments of trade, social welfare, energy, labor, budget, and interior and local government, as well as the National Economic and Development Authority (NEDA).
The Department of Science and Technology - Philippine Council for Agriculture, Aquatic and Natural Resources Research and Development, and the Department of Finance - Philippine Crop Insurance Corp. are also part of the group. (PNA)