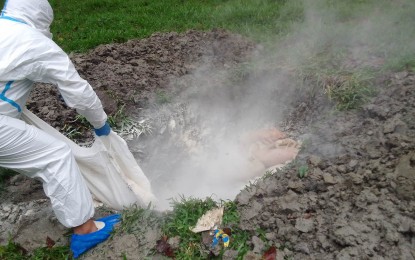 BACOLOD CITY – Some local government units (LGUs) in Negros Occidental have allotted financial assistance and secured insurance benefits for hog raisers affected by swine deaths caused by African swine fever (ASF) and hog cholera.
In this provincial capital, the city government has set aside PHP10 million as cash indemnification for ASF-affected backyard raisers while in Bago City, just south of Bacolod, the City Council approved on Wednesday a total of PHP16 million in cash aid for those with reported hog cholera cases.
As of Wednesday, ASF cases have already been detected in at least two villages in Bacolod, including Barangays Taculing and Tangub.
Councilor Jude Thaddeus Sayson, chairperson of the committee on appropriation and finance, here said aside from providing indemnification, the city would also purchase infection prevention-related equipment, making the total allocation about PHP11 million.
"We are requesting the hog raisers to have their pigs registered with the barangay. We will compensate for those that will be culled," he added.
Those included in the culling are hogs situated in farms within a 500-meter radius of the infected area.
For piglets (zero to three months), the compensation is PHP3,000 per head; for fattening (above three months to five months), PHP5,000 per head; and for breeders/boars (six months old and up), PHP7,000 per head.
The granting of cash indemnification to ASF-affected hog raisers is provided in Executive Order 022-2023 released by the Office of the City Mayor on Tuesday.
In Barangay Tangub, village chief Noli Villarosa said they have also provided financial assistance to owners of the culled pigs.
Over at Bago City, which has recorded 1,752 swine deaths due to hog cholera, losses incurred by 234 raisers already reached PHP20.46 million as of Tuesday.
A family with one to four dead hogs will each receive PHP3,000; five to 10 dead hogs, PHP5,000; and 11 dead hogs and above, PHP8,000.
"This is just an initial assistance as we continue to look for more ways to further assist our local hog raisers, including providing them other livelihood opportunities," said Councilor Victor Michael Javellana, chairperson of the committee on agriculture.
In Victorias City, which has nine confirmed cases of ASF, about 90 percent of its 1,584 total hog population has been insured with the Philippine Crop Insurance Corp., Mayor Javier Miguel Benitez said.
"We are going to explore options on how to minimize impact to livelihood," he said. (PNA)