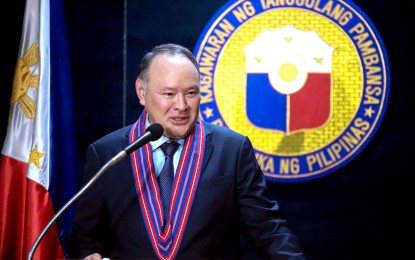 MANILA – The Philippines has the right to build up its credible deterrence without any question coming from any other nations, newly appointed Department of National Defense (DND) Secretary Gilberto "Gibo" Teodoro Jr. on Wednesday said.
"The job of the Secretary of the National Defense is first and foremost building up our credible deterrence, and that will, and the way that we build up our credible deterrence is our business and nobody else's business and whether we partner with country X or Y in order to build up our own core strength is a question for the Philippines," he said in a television interview.
Also, Teodoro said other countries should not question this right as the Philippines does not call out other nations engaged in the buildup of defensive and even offensive capabilities.
"Just like we do not question the buildup of not even defensive capabilities but offensive capabilities of other countries, they should not question ours and they should not tie up our buildup of our capabilities to any question of whether it's Taiwan or whatnot. The Philippines is for the Philippines and we leverage that and I think other countries want to help us because they view it as an integral (part of) standing strong with democratic values," he added.
The DND chief also said that the Philippines is not a pawn of anyone in the ongoing "geopolitical battle" in the region.
"And so the Philippines is a value (proposition) as we call it by its own self and not a pawn of anybody else in the geopolitical battle that's raging within our area now," he stressed.
Unexpected
As this developed, Teodoro said he was not expecting any role in President Ferdinand R. Marcos Jr.'s administration as he was already concentrating on his private sector responsibilities.
"Yes because I was already concentrating on my private sector responsibilities like, which I was concentrating only yesterday, resigning from, all my major responsibilities which I continued to do, resumed rather after the election," he added.
Teodoro ran for senator and lost under the banner of Marcos and Sara Duterte who both won in the May 2022 elections.
He added that he was only informed that he would be appointed to the DND following a meeting with Marcos.
"The President, we had a meeting and we both agreed that this is the best way I can help his administration," Teodoro said.
He also added that national defense is everybody's business and the most important thing is to communicate about its importance.
"You know the enormous expense that's required for it but any country worth its salt requires a robust defense because there's no country that can have any integrity whatsoever unless it is able to enforce its laws within its own territorial boundaries," Teodoro noted.
Being DND chief more challenging now
While he is not new to the DND portfolio having served as defense chief from August 2007 to November 2009 under then President Gloria Macapagal-Arroyo, Teodoro said manning the post is more challenging now as we are all now living in a different world.
"It was not merely the relationship with China which was different then, during that time there was no Middle Eastern implosion yet, there was no Arab Spring, there was no tension between Russia and Ukraine and the relationship between China and the United States was different, even in the semiconductor and technology sector there was cooperation so now we live in a vastly different world," he added.
And with these events that have occurred, Teodoro said the lesson is the need to build up the country's capabilities in order to make sure that we are safe from any "world happening or event."
"Okay, we are talking about the conflict between these superpowers now, but who knows 30 years hence whether there will be regional conflict, we cannot foresee the political developments in the region, and our job, my job, my primary job, of course the first marching of the President to me was the pension scheme for the Armed Forces, and a lot of work has been done towards that end and it's a matter of continuing the work done and I commend (former DND officer in charge) Secretary (Carlito) Galvez (Jr.) and the rest of the financial team, (Finance) Secretary (Benjamin) Diokno for working together for it, it's a matter of really just communication and tweaking the basis of it, now having said that the job of the DND is to build up its capabilities in order to be ready as much as possible to foresee, predict and to react to defend the Philippines from any geopolitical happening," he added.
Building up AFP, DND capabilities
As he formally took over the helm of the DND Wednesday, Teodoro said that he will continue to lobby Congress for more funds to help the AFP in its ongoing modernization program.
"There are already set horizons for that, that they have set for the coming year. We will continue to lobby Congress for that and for more funds," he said.
Teodoro also added that he will also push for a "capital outlay" for the DND to build up its capabilities.
"And I would also like to add certain things that are important. We cannot continue to have a Department of National Defense without a capital outlay for our own department. We need to build up the capabilities of this department as part of the national defense family. And I would like to state that (it is) one of my goals, to build up the capabilities of the Department of National Defense Proper," he added.
But in order to manage the five agencies under its wing, with the AFP as the largest, Teodoro said there is a need to "build up the managerial capability of the managing department" which is the DND and that he intends to focus on it.
"As a manager, my first job is to manage the home institution itself. I want to help lay the foundations for (the) Department of National Defense for our future, to develop expertise in program management, analytics, predictions, other capabilities, contracting, international relations, and to build up the career track of our own employees," Teodoro said.
Also, in the ongoing AFP Modernization Program, the DND chief said they will make sure that the services get systems and platforms with the "best, at the most affordable costs, and the most sustainability as possible".
The newly appointed DND chief also reiterated his thanks for the "trust and confidence" given to him by President Marcos in order "to steward" the defense department.
"I would also like to thank all my predecessors, most especially Secretary Charlie Galvez for the sterling work that he has done, let's give him a big hand, all of them, all of them, because national defense is not a zigzag, it is a building block. Each of us must help and reinforce one another and with the whole of government approach especially right now given the challenges we face and the future we want to build, moreso we need each other right now," he added.
Teodoro also thanked his wife, the Special Envoy to UNICEF Monica Prieto-Teodoro and son Jaime, for being with him in all the journeys he had undertaken.
"And I wished and simply put, a great working relationship with each and everyone of you. So madaming salamat po. There's a lot of work ahead and I am confident that together, in unison with one another and we will continue to work with Secretary Galvez, we will succeed. There's nowhere else to go but up," he added. (PNA)