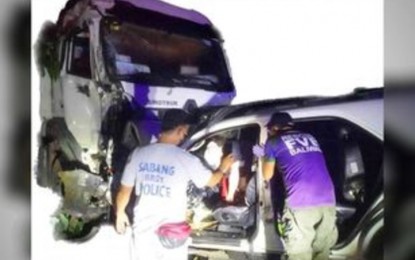 CITY OF MALOLOS, Bulacan –Five persons, including three Korean nationals died while two others were seriously injured when the sports utility vehicle (SUV) they were riding collided head-on with a truck along Doña Remedios Trinidad Highway in Barangay Sabang, Baliwag City, this province on Wednesday morning.
Col. Relly B. Arnedo, provincial director of the Bulacan Philippine National Police (PNP), said the fatalities were SUV driver Allen Arucan Bulandos, resident of Barangay Poblacion, Talavera, Nueva Ecija and his passengers Miseon Kim, Park Misoon, and Jinoh Kim, all Korean nationals and Rosalinda Capinlac, resident of Barangay San Vicente, Llanera, also in Nueva Ecija.
Those seriously hurt, Arnedo said, were two other SUV passengers identified as Geraldine Capinlac and Theresa Adio.
Based on the initial investigation, the SUV was heading northbound from Barangay Ulingao, San Rafael while the truck was traveling southbound from Barangay Sabang, Baliwag.
"But the SUV suddenly occupied the opposite lane, which at the time, the truck was traversing at high speed. The truck then hit the front portion of the SUV then eventually collided head-on," Arnedo said in an interview.
He said five of the SUV passengers, including the driver, sustained multiple injuries and were brought to Baliwag District Hospital but declared dead on arrival by the attending physician.
The two other SUV passengers were brought to Bulacan Medical Center, Malolos City for immediate medical attention.
Meanwhile, the truck driver identified as PJ Salaysay Calma, of Barangay Mangga, Candaba, Pampanga, was unhurt and is now under the custody of Baliwag City Police Station for proper disposition and documentation while the vehicles involved were impounded.
Arnedo said that charges of reckless imprudence resulting in serious physical injury, multiple homicide, and damage to property are now being prepared for filing against the truck driver before the Provincial Prosecutor's Office here. (PNA)