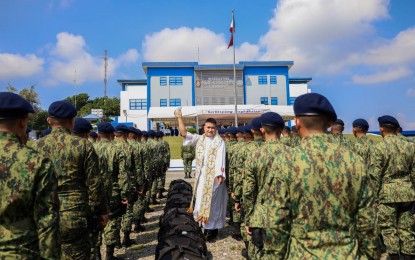 MANILA – Police Regional Office 4B (Mimaropa) director Brig. Gen. Joel Doria on Wednesday led the send-off ceremony for the 96 rookie police officers who will undergo the 90-day Community Immersion Program (CIP).
The 90-day program aims to provide participants with a deeper understanding of the insurgency problem in the Philippines and equip them with the right mindset and knowledge for engaging with target communities in the hopes of turning their minds and hearts towards the government.
In his message, Doria urged the CIP participants to embrace the program and carry the responsibility of protecting and serving the community.
He encouraged them to establish trust and unity, leading to positive change in their areas of responsibility.
"I urge you all to embrace the power of community immersion and work together to build bridges, create change, and foster trust and unity in our communities. By immersing ourselves in the community, listening to their stories, and understanding their perspectives, we can establish trust and unity, leading to positive change in our areas of responsibility," Doria said in a statement.
The 96 CIP participants will be deployed to various geographically isolated and disadvantaged areas/barangays in the provinces of Oriental and Occidental Mindoro, as the PNP continues its commitment to protect and serve the community by building bridges and establishing trust and unity with the people they serve through this program.
Moreover, the ceremony coincided with the turnover ceremony of 1,500 food packs to Naujan Municipal Police Station, 2nd Provincial Mobile Force Company (PMFC), Oriental Mindoro Police Provincial Office (PPO) and 1st PMFC, Occidental Mindoro PPO.
The 500 food packs will be distributed to less fortunate and low-income families, as well as victims of the oil spill in the municipality of Naujan, Oriental Mindoro, while the remaining 1,000 food packs will be utilized for community outreach programs in identified geographically isolated and disadvantaged areas in Occidental and Oriental Mindoro. (PNA)