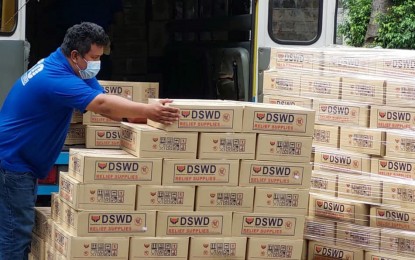 MANILA – The Department of Social Welfare and Development (DSWD) is ready to reinforce the local government units (LGUs) in case Taal and Mayon volcanoes erupt anew, Secretary Rex Gatchalian said on Wednesday.
During the Kapihan sa Manila Bay media forum hosted by journalist Ichu Villanueva, Gatchalian said he already assured Albay Governor Edcel Grex Lagman that the DSWD is ready to respond and preparation is also ongoing in Batangas province.
"We continue to stockpile to make sure na kung mayroong mangyari (if something happens), we are ready to augment the local government's efforts," Gatchalian said.
He said prepositioning of at least 100,000 family food packs (FFPs) both in Calabarzon and Bicol is also ongoing as part of mitigation measures.
The DSWD Field Office in Bicol Region has already activated its quick response team (QRT) to monitor the developments on the status of Mayon volcano.
FO 5 regional director Norman Laurio has visited the warehouses in the municipalities of Bogtong, Camalig and has coordinated with the Office of Civil Defense (OCD) for the use of its warehouse in case needed.
The FO V personnel also visited the identified evacuation centers in the towns of Guinobatan, Camalig and Daraga to check if the facilities are in good condition.
The Philippine Institute of Volcanology and Seismology (Phivolcs) has observed "increasing unrest" both in the Taal Volcano in Batangas province and Mayon Volcano in Albay since Sunday.
Food stamp program
In the same forum, Gatchalian also discussed the government's Food Stamp Program (FSP) which, he said, seeks to address the wastage of agricultural products due to oversupply.
He said the DSWD is in constant coordination with the Department of Agriculture to tap local farmers to become active partners in the FSP implementation.
"We are aware of the reports that farmers often have oversupply in tomatoes or squash without buyers. That's why in this program, we aim to shape a solution where we can also help. We will lessen the wastage from our farmlands," he said.
He said the program was initially designed to prioritize "farmers-driven stores" such as those operated by the Kadiwa ng Pangulo and Agri-Coop, as outlets where beneficiaries can buy cheaper goods and products.
"We have to be able to link the farmers, 'yong mga produkto nila, sa lamesa ng mga mahihirap na Pilipino. Hindi na lang farm-to-market tayo, farm-to-table na rin. (We need to establish a connection between the farmers and the tables of poor Filipinos. Not only farm-to-market, but farm-to-table)," he said.
Gatchalian said the FSP is also "meant to help our farmers" as it targets to support poor families with only less than PHP8,000 monthly income.
Dubbed as "Walang Gutom 2027 Food Stamp Program", it targets to provide a PHP3,000 per month allowance to at least 1 million "food poor" families. (PNA)