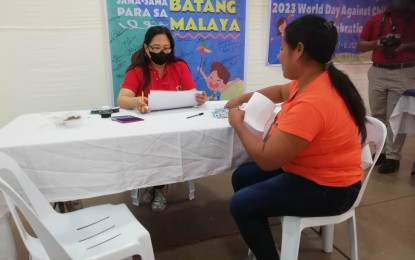 SAN JOSE DE BUENAVISTA, Antique - A total of 100 child laborers in Antique province received the first tranche of their educational assistance under the Strategic Helpdesk for Information, Education, Livelihood and Other Developmental Interventions against Child Labor (SHIELD) program of the Department of Social Welfare and Development (DSWD) in a ceremony on Wednesday.
"The educational assistance is given to keep the children in school," said SHIELD focal person Demi Fuentespina in her message during the distribution at the Antique Tourism and Investment Forum here, adding that the cash aid of PHP3,000 per recipient was received by their parents and guardians.
Fuentespina said the provision of educational assistance aims to eliminate the problem of child labor in the province.
The recipients who are 15 years old and below were from the towns of Hamtic with 15, Valderrama, 14; Sibalom, 22; Tobias Fornier, 14; Barbaza, 18; and Laua-an, 17.
Labor and Employment focal person on Child Labor Prevention and Elimination Program Yulee Salvarita, in his message, urged parents and guardians to make sure that their children are protected and their rights are provided starting in their homes.
"In Antique, most of the child laborers are children of farmers and sugar migrant workers," Salvarita said.
Antique Vice Governor Edgar Denosta, in his message, said he will sponsor a resolution during their regular session next week for the institutionalization of the SHIELD program.
"The resolution is intended to provide additional funding for the Provincial Social Welfare and Development Office (PSWDO) so it could conduct more symposia for the awareness raising on the protection of children's rights," Denosta said.
Parent Maribel Ogatis, whose 14-year-old daughter was one of the recipients, said they are fortunate to be among the beneficiaries of the program.
"The educational assistance is a big help because my child was able to buy her school supplies," she said in an interview.
Ogatis said her husband is a farm laborer and his income could hardly provide for the school needs of their child.
Her daughter helps in the farm, especially during harvest season to earn money.
Her daughter has been a recipient of the program since 2020. (PNA)