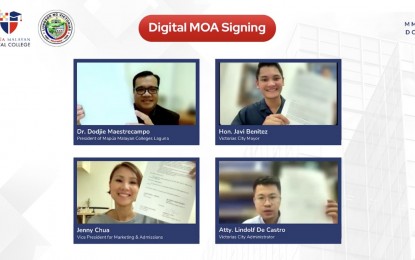 BACOLOD CITY – Two cities in Negros Occidental have partnered with the Mapua Malayan Digital College (MMDC), which has a learning hub in this city, for scholarship grants that will allow qualified local government unit (LGU) employees to complete degrees in technology and business.
These include Victorias City headed by Mayor Javier Miguel Benitez and Sipalay City led by Mayor Maria Gina Lizares, who have recently signed agreements with officials of the educational institution for the scholarships to take effect starting the first term of school year 2023-2024 in August.
Benitez said on Wednesday that through the partnership, the city government would be able to have its employees get information technology (IT) education to meet the manpower needs for the implementation of its digital projects.
"We're very excited about this. It's remote learning. I really like the way of doing this. We need to upscale the capabilities of our people," he told the Philippine News Agency (PNA).
Through the partnership, the northern Negros city aims to give deserving students and government employees a chance to receive quality education and allow them to reach their full potential.
The city government will sponsor 20 full scholars, with LGU employees as the priority, but the scholarship grants will also be opened to non-employees if not all slots are filled.
Five full scholarships will be also given to the mayor's staff, but if slots are still available, these will also be opened to other LGU employees.
On the part of Sipalay City, located in southern Negros, Lizares entered into a memorandum of agreement for the city to offer scholarships as part of its Sustaining Growth through Education Program-Employment Entrepreneurship Program.
Made possible by the Gender and Development Fund for 2023, it seeks to provide Sipalaynons as well as city government employees the opportunity to pursue college degrees, vocational courses, and continuing education for free.
Under the agreement, Sipalay City will grant 10 full scholarships, mainly for LGU employees, but unfilled slots will be opened to non-employees while five full scholarships will be opened to LGU employees only.
In both five scholarship slots exclusive for city government employees, the MMDC will pay the tuition while the LGU will shoulder the miscellaneous fees for the first 45 units.
The LGU will then pay for the tuition and the miscellaneous fees for the remaining units the scholar needs to graduate.
"We're very excited with our partnerships with the LGUs for this year," Jenny Chua, vice president for marketing and partnerships, said in a recent visit to Bacolod.
The MMDC has also partnered with the Negros Occidental provincial government, which has provided four-year scholarships to less privileged but deserving Negrense students.
These include 100 scholars during the school year 2022-2023 and additional 76 for the coming school year for courses in IT and business administration.
"We have just renewed our partnership with Governor Bong (Eugenio Jose Lacson). This is our second year with them," Chua said.
MMDC offers flexible learning, where it requires digital class meetings of about 7.5 hours each week of synchronous learning with professors for full-time students, and 4.5 hours for working students.
At the learning hub, which is unlike traditional college campuses, students are provided with modern spaces where they can meet, do focused work, collaborate on group projects and organize clubs. (PNA)