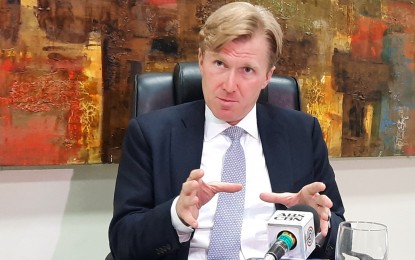 MANILA – The Philippines is on the right track in building up its defense capabilities, a former Pentagon official said, citing its potential to contribute to peace and "blunt" potential aggressions in the region.
Elbridge Colby, former Pentagon Deputy Assistant Secretary and co-founder of the think tank Marathon Initiative, made the statement as he cited China's growing assertiveness in the South China Sea and over Taiwan, which lies only a few hundred miles away from the country.
Colby, who was also the lead architect of the United States' 2018 National Defense Strategy, agreed that Manila should continue engaging with China as a bilateral partner but at the same time back diplomacy with strength.
"The Chinese are not going to take your diplomacy seriously if you're operating from a position of weakness, they will take our diplomacy seriously if it's backed by force that they don't think they can mess around," he told reporters in an interview in Makati on Tuesday.
"What I propose is, we need to be hawkish to get to a place where we can be doves," he added.
Colby clarified that he is not suggesting going into war but for countries to have effective deterrence to precisely avoid conflict from arising in the region.
Given its distance, Colby said a conflict in the Taiwan Strait "would also encompass the Philippines, whether the Philippines wanted it or not".
"In that situation, I think the best course of action for Manila, and also for Washington is to work together to be as strong as possible in a way that's measured and is not unduly provocative towards China but that makes clear to China that it is not a good idea to conduct military aggression," he said.
"I think that is the ultimate way to get to peace and detente, where we can continue to trade with China but do so from a position of strength where Beijing has to respect our interests," he added.
Colby, meanwhile, commended the move by the Marcos and Biden administrations to bolster the Philippine-US defense ties and encouraged the two to further "accelerate and expand" it.
The Philippines adopts the One-China policy and has repeatedly reiterated its observance of the principles of non-interference in regional issues by the Association of Southeast Asian Nations.
Newly-appointed Defense Secretary Gilbert Teodoro had also stood firm that the Philippines would not be used as a "pawn" in the face of heightened geopolitical tensions in the region.
President Ferdinand R. Marcos Jr. had also previously said that the government would not encourage provocative actions by any country nor allow the Philippines to become a staging post for any kind of military action. (PNA)