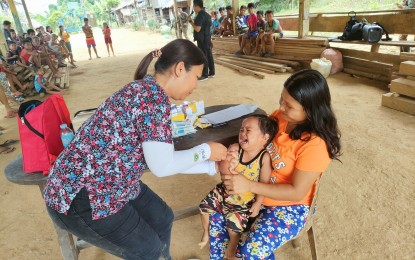 TACLOBAN CITY – With a week left before the end of the measles-rubella mass vaccination drive, at least 99,015 preschool children in Eastern Visayas have yet to receive the vaccine, the Department of Health (DOH) reported on Thursday.
In its latest update, the DOH regional office here revealed that vaccination activities from May 1 to June 7 have covered at least 318,442 children, representing 76.28 percent of the 417,478 target population five years old and below.
Jelyn Lopez-Malibago, DOH Eastern Visayas information officer, said in a phone interview on Thursday the campaign needs to reach out to more households in the last week of the extended vaccination days.
"We are confident that by June 15, we will be able to reach or even surpass the 80 percent of the target children population," Malibago told the Philippine News Agency (PNA).
The five areas with lower vaccination coverage are Tacloban City (60.10 percent), Southern Leyte (68.97 percent), Northern Samar (69.97 percent), Leyte (74.80 percent), and Ormoc City (76.44 percent).
The campaign also provides oral polio vaccines among children in cities and capital towns in Eastern Visayas.
As of June 7, about 95,293 children received anti-polio vaccines, attaining 78.15 percent of the target.
"We appreciate the commitment of all healthcare professionals and our collaborators and stakeholders for the success of the Chikiting Ligtas Campaign," Malibago added.
On May 31, the DOH announced the extension of the vaccination drive for two weeks or until June 15 to reach out to more children.
The official reiterated that there is no treatment for polio, rubella, and measles, with vaccination as the only effective way to prevent the possibility of an outbreak.
Measles, one of the most contagious diseases worldwide, is characterized by high-grade fever, rashes, cough, sore eyes, and runny nose with complications that could lead to pneumonia, blindness, severe diarrhea, swelling of the brain, and even death.
Polio, on the other hand, is a potentially debilitating disease that causes fever, neck stiffness, and muscle weakness, and can eventually result in lifelong paralysis. (PNA)