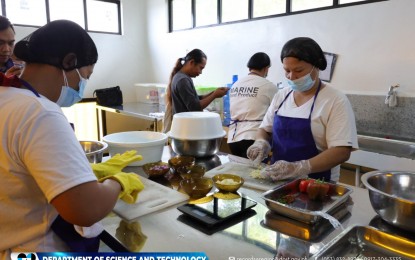 JIABONG, Samar – For the last 10 years, 44-year-old Marilou Aboguin and 40 other women have been processing green mussels (tahong) in their backyard, not until last year when assistance from the government doubled their production and widened their market reach.
With PHP500,000 worth of assistance from the Department of Science and Technology (DOST), members of the Maligaya Agri-Business Association (MABA), including Aboguin, are now capable of producing up to 200 to 400 bottles of processed tahong monthly from just 20 bottles before the intervention.
The group also produces 200 pouches of tahong crackers from just 20 to 50 pouches in the past.
"My husband earns a little from fishing. With this project, our family can earn an additional PHP400 daily, just enough to support the needs of our five children," said Aboguin during the project visit here Wednesday.
Before the intervention, she and her neighbors had PHP1,000 sales based on orders. With the new equipment and a processing area, MABA members have been earning a minimum of PHP15,000 monthly.
"This business gives women employment opportunities. We stopped selling raw tahong and became involved in the processing of high-value products," she added.
In 2019, the group saw the completion of its PHP4 million processing area funded by the International Fund for Agricultural Development under the Fisheries Coastal Resource and Livelihood (FishCORAL) Project of the Bureau of Fisheries and Aquatic Resources.
The group produces tahong-based products such as adobong tahong, tahong sa gata, bopis tahong, tahong crackers, shrimp sticks, and tahong escabeche.
MABA is led by Osacar Acotin who is the only male member of the association with 41 female members.
He said the production process of their tahong products has been standardized and the member processors can augment income for family needs.
"Aside from processing, the DOST assistance also improved our method of tahong production using a long line culture, which is more sustainable than the traditional staking way using bamboo poles," Acotin said.
The excessive use of bamboo in tahong production has been seen as the cause of pollution in Maqueda Bay as it affects water flow.
DOST Eastern Visayas Regional Director Ernesto Granada said the group is one of the beneficiaries of Community Empowerment thru Science and Technology projects in Samar province.
Through the DOST assistance, the group acquired last year a sterilizer and pressure cooker, two chest freezers; two stainless steel working tables. The group also received basic food safety and good manufacturing practices.
"With a series of training and improved tahong processing, we are empowering the women group and creating impact in the community. Member processors were able to augment their income," Granada said.
Mussel or tahong is the common name used for members of several families of bivalve mollusks. The seafood is abundant in Maqueda Bay in Samar province where over 1,000 fishermen in Jiabong town depend on it for living, (PNA)