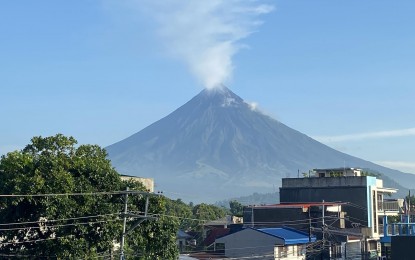 MANILA – The Philippine Institute of Volcanology and Seismology (Phivolcs) on Thursday raised Mayon Volcano's status from Alert Level 2 (increasing unrest) to Level 3 (increased tendency towards hazardous eruption) following continuous increase in its rockfall events.
The repeated collapse of the growing summit dome of Mayon Volcano has generated an increasing number and volume of rockfall events since June 5 when Mayon's alert status was raised to Level 2, the Phivolcs said in an advisory.
From June 5 to June 8, Phivolcs recorded 267 rockfall events and two volcanic earthquakes. There were 54 rockfall events from June 1 to June 4.
"These events had durations of 1 to 3 minutes and transported lava debris within a kilometer range of the southern upper slopes. The volume of discrete rockfall events increased on 3 June based on the seismic record, signaling an increase in the rate of dome growth," the advisory read.
Phivolcs added that three pyroclastic density current (PDC) that lasted four to five minutes were observed on the Bonga and Basud Gullies at 6:18 a.m., 9:53 a.m. and 11 a.m.
Meanwhile, sulfur dioxide emission remains at the baseline level, according to Phivolcs.
The overall monitoring parameters indicate that very slow extrusion of shallow degassed magma is ongoing and is incrementally increasing in rate, it said.
Under Alert Level 3, Mayon is exhibiting magmatic eruption of a summit lava dome, with increased chances of lava flows and hazardous PDCs affecting the upper to middle slopes of the volcano and of potential explosive activity within weeks or days.
Phivolcs recommended the evacuation of residents within the 6-km radius permanent danger zone due to the danger of PDCs, lava flows, rockfalls and other volcanic hazards.
Increased vigilance against pyroclastic density currents, lahars and sediment-laden streamflows along channels draining the edifice is also advised. The current prevailing wind pattern indicates that ash fall events may most likely occur on the south side of the volcano.
Phivolcs said aviation authorities must also advise pilots to avoid flying close to the volcano's summit as ash from any sudden eruption can be hazardous to aircraft.
Preps underway
The Office of Civil Defense(OCD) on Thursday said it conducted preparedness and coordination conferences with other government agencies due to the raising alert levels and unrest of Mayon and Taal volcanoes.
These agencies are the Department of Health, Phivolcs and the Department of Environment and Natural Resources.
Along with the National Disaster Risk Reduction and Management Council, the OCD reiterated the declaration of permanent danger zones as off limits to the public, such as farmers and tourists.
Aside from this, OCD issued a memorandum to its offices in Region 5 and the Calabarzon regarding heightened monitoring and close coordination with local DRRMCs and support agencies.
"And to prepare the public on possible evacuation if the situation worsens," it added.
OCD also reminded concerned regional offices and government agencies to review their preparedness measures, and check all resources for possible deployment and distribution.
The Department of Agriculture is also monitoring the situation of Mayon Volcano.
Based on Bulletin No. 1 on Mayon Volcano Alert 3 issued on Thursday afternoon, the DA said it is coordinating with other concerned Disaster Risk Reduction Management (DRRM) as to the situation of the volcano.
Among the actions taken are to advise farmers to evacuate animals to safer areas, and secure farm equipment and machinery and inventory of livestock population inside the six-kilometer PDZ.
Also, they are prepositioning hauling trucks at Tabaco City and Camalig, Albay Research Outreach Stations, and updating seed reserves.
The DA-DRRM Operations Center is ready to provide updates regarding the volcano's activity
It advised the public to contact (02) 8929-0140/09667987044 for more information on the activity of the volcano. (with Priam Nepomuceno and Ferdinand Patinio/PNA)