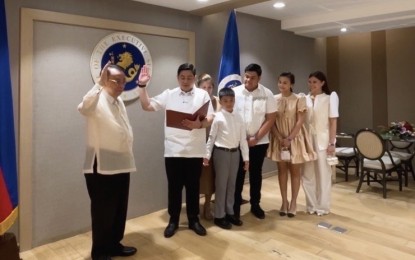 MANILA – Bureau of Customs (BOC) acting Director Verne Yadan Enciso was formally sworn in as the new director of the Customs Intelligence and Investigation Service (CIIS), in Malacañan Palace on Thursday.
President Ferdinand R. Marcos Jr. designated Enciso as the CIIS director on June 5.
He has been serving as CIIS acting director since his designation by Customs Commissioner Bienvenido Rubio in March.
Enciso also served as CIIS station chief of the Ninoy Aquino International Airport (NAIA) and special assistant to Intelligence Deputy Commissioner Juvymax Uy.
In thanking the President for the trust and confidence given to him and Rubio for his support, Enciso committed to leading the office in full support of and alignment with the programs set by the Commissioner.
Enciso emphasized the importance of transforming Customs Intelligence operations in line with the presidential directive of modernizing and digitalizing customs services and administration.
He also outlined his plans to enhance the proficiency of intelligence officers in digital technologies and elevate the technological capabilities of the CIIS.
"These advancements aim to facilitate the delivery of highly credible, confidential, and timely intelligence reports that customs can rely on and utilize for efficient and effective security enforcement, apprehension, and profiling," he said in a statement.
Enciso, who has been serving the BOC for more than 17 years, has extensive experience in intelligence work and a deep understanding of customs operations.
He began his customs career in 2006 as executive assistant to then-commissioner Napoleon Morales until 2010. He subsequently joined the Intelligence Group, where he held the position of CIIS station chief in the major ports of Cebu, Subic, and NAIA, for more than 13 years.
Enciso has a Master's Degree in Management, major in National Security Administration, from the Philippine Christian University in 2022.
in 2021, he completed the Joint Customs Middle Management Program conducted by the Australian Border Force and the RMIT University in Melbourne. (PNA)