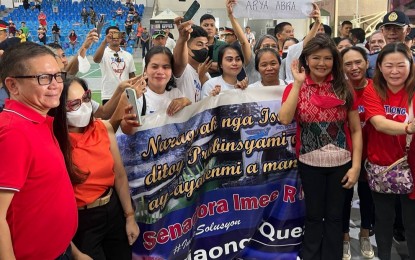 TIAONG, Quezon – College students from five towns of this province's second district on Thursday received educational assistance through the intervention of Senator Imee Marcos and Governor Angelina Tan in ceremonies held at the Tiaong Convention Center in Barangay Lumingon here.
A total of 1,500 students from financially-challenged families -- 577 from Tiaong, 214 from Candelaria, 294 from Dolores, 408 from San Antonio and 7 from Lucena City each received PHP4,000 in cash.
Marcos personally oversaw the distribution of funds to Quezon's needy youth, under the Department of Social Welfare and Development's (DSWD) Aid to Individuals in Crisis Situations (AICS) program.
The lawmaker said the cash aid is intended to help the students pay for their tuition and purchase school supplies.
During the occasion, Marcos also pressed her personal campaign against malnutrition by distributing "Nutribuns" (vitamin-fortified bread) to students and parents alike.
In a light moment, the lady senator also encouraged the youth to consider careers in the arts, in hopes that some of them will one day end up producing socially-relevant films such as Himala, Maid in Malacañang and Wanted: Murderer.
Other Quezon officials who attended the occasion were Vice Gov. Anacleto Alcala III, Mayors Vincent Arjay Mea (Tiaong), Orlan Calayag (Dolores), and Ariel Wagan (San Antonio). (PNA)