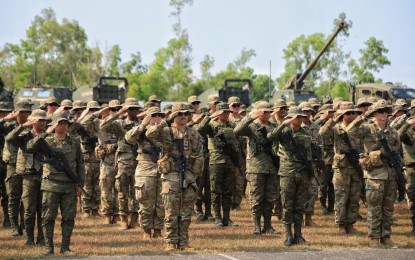 MANILA -- The Government Service Insurance System (GSIS) has reiterated that it will properly manage and protect the independence of the pension of military and uniformed personnel (MUP).
During a consultation with the Philippine National Police (PNP) on the proposed reforms to the MUP pension system, GSIS Senior Vice President George Ongkeko Jr. underscored that the GSIS would only manage the funds and protect the independence of the pension for MUPs.
The consultation was attended by top officials from the Department of Finance (DOF), the Bureau of the Treasury (BTr), GSIS, and a representative from the Office of Senator Jinggoy Estrada in Camp Crame, Quezon City last June 7.
During the forum, many participants asked if the pension of uniformed personnel would be the same as the pension for civilians.
"In GSIS, we ensure that there will be no co-mingling of funds. Don't worry. In GSIS, we manage a lot of fund(s) but we make sure that there's no co-mingling," Ongkeko assured.
In a statement Thursday, DOF said the forum was the second leg of a comprehensive series of consultations.
Before meeting the PNP, the economic team consulted with the Armed Forces of the Philippines (AFP) to gather its sentiments.
National Treasurer Rosalia de Leon discussed the goals of the proposed reform and emphasized its intention to maintain the quality of life of uniformed personnel while balancing long-term financial sustainability.
De Leon said stakeholder consultations are part of the reform process.
"This is precisely why we have these kinds of forums. Para makuha namin ang (so we can get your) perspectives ninyo and together we can achieve a collective buy-in," de Leon said.
During the forum, PNP Lieutenant General Michael John Dubria delivered a message on behalf of PNP chief, General Benjamin Acorda Jr., saying that the police would remain "open to further discussions."
"It is a fact that the President himself intended for this project," he said. "(Everyone) hopes for the best, for the good of the economy, the nation, and the welfare of all."
The economic team welcomed the concerns raised and assured the PNP that these would be taken into serious consideration when drafting the formal proposal.
Meanwhile, DOF Undersecretary Maria Luwalhati Dorotan Tiuseco also assured that the team was more than willing to have further conversations to flesh out other concerns and details.
"Rest assured that we would be more than willing to talk in smaller groups if needed so we can better explain the proposals," she said. (PNA)