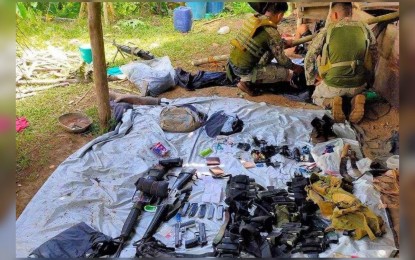 LEGAZPI CITY – At least three New People's Army (NPA) rebels were wounded in a clash with military troops at the boundary of Barangays Cotmo and Aldezar in Sipocot town, Camarines Sur on Wednesday, the Philippine Army (PA) said.
Maj. Frank Roldan, 9th Infantry Division Public Affairs Office chief, identified the wounded rebels as Nickson Calinog alias Tom, squad leader of Platoon1, Komite Larangan Guirilla2 (KLG2) Sub-Regional Committee1 (SRC1), Nelson Marinay alias Nongnong and Arlene Marinay, all members of the same platoon.
He said all three wounded rebels are now in the custody of the military and will undergo custodial debriefing.
"They were left by their comrades after they fled in different directions. The three wounded rebels received medical treatment. They will undergo custodial debriefing for information that will help to encourage their other members to surrender," Roldan said.
The firefight that lasted 15 minutes ensued when the troops responded to the information from concerned citizens regarding the presence of several armed men.
Government troops recovered from the clash site two M16 rifles, two .45 caliber pistols and several propaganda materials.
"The encounter site is currently being searched by troops and subsequent operations are still going on," he said.
Roldan also said the wounded rebels may receive financial assistance under the Enhanced Comprehensive Local Integration Program (E-CLIP).
Cases may still be filed with the three rebels depending on their willingness to cooperate with authorities.
Meanwhile, the 9ID welcomed through a reception rite 132 aspiring soldiers who passed all the requirements.
"The new breed of warriors will undergo a 7-month rigorous Basic Military Training (BMT) cross-trained with Infantry Orientation Course (INFOC)," Roldan said.
The 132 are from Camarines Sur-41; Albay, 30; Camarines Norte, five; Sorsogon, 18; Masbate, eight; Catanduanes, one; and 29 from other regions of the country. (PNA)