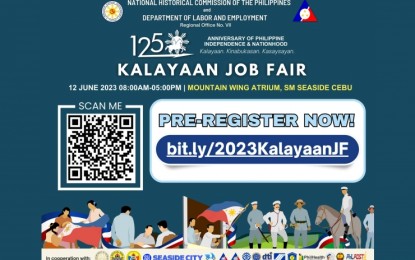 CEBU CITY – Over 5,000 vacancies will be offered in two job fairs in Central Visayas on the 125th Independence Day, a Department of Labor and Employment (DOLE) official on Thursday said.
Lilia Estillore, DOLE-7 regional director, said the job fair will be held simultaneously on June 12 in the cities of Cebu and Dumaguete, with various establishments signifying their interest to give opportunities to job seekers.
The agency has partnered with the Public Employment Service Offices (PESOs) in organizing the Kalayaan Job Fairs to be held at the SM Seaside City Cebu and the Robinsons Place- Dumaguete City.
Estillore said as of Thursday, the regional labor office has 5,245 vacant positions up for grabs on the two separate job fairs.
There will be at least 2,317 openings from 30 participating employers available for applicants from this capital city while 2,078 local jobs and 850 overseas employment postings for Dumaguete job hunters.
Jobs to be opened in Cebu City are health care associates, retail associates, service crew, social media specialists, customer service and outbound sales representatives.
In Dumaguete City, job hunters can choose to apply for customer service representatives, production support crew, and ESL teachers.
Job seekers will be provided with transportation assistance as the agency partnered with the Cebu City Department of Manpower Development and Placement, ride-hailing agency Angkas, and MyBus.
Using the promo code (AKSXDMDP), passengers or job seekers will get PHP25 off on their rides using the said ride-hailing app operator.
Applicants are advised to bring documents such as biodata, 2x2 ID picture, and certificate of employment, if available.
"Through this initiative, we hope to produce more hired on the spot or HOTS thereby freeing them from unemployment or underemployment," Estillore told the Philippine News Agency. (PNA)