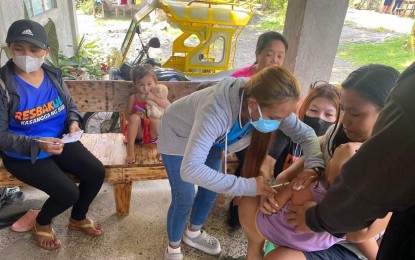 ILOILO CITY – Health workers have yet to administer vaccines to about 138,000 children less than five years old in Western Visayas under the extended Chikiting Ligtas campaign of the Department of Health (DOH).
In a virtual presser on Thursday, DOH 6 (Western Visayas) - Center for Health Development Regional Immunization Program coordinator, Dr. Jose Martin Atienza, said as of June 8, more than 522,000 or 79.2 percent of the 660,054 target children have received their vaccination in the ongoing Measles-Rubella, bivalent Oral Polio Vaccine Supplemental Immunization Activity (MR bOPV SIA).
The province of Negros Occidental has the highest number of vaccinated children with 196,488, or 88.2 percent of their target, followed by Iloilo province with 139,742 vaccinated or 86.49 percent of the projected eligible children.
Capiz has vaccinated 47,045 kids; Iloilo City, 26,776; Guimaras, 10,892; Antique, 39,520; Aklan, 33,896; and Bacolod City, 31,709.
"The extension of the MR bOPV SIA is quite expected knowing that in previous years when SIAs were conducted, it was also extended. Along with the fact that our weather was affected, there was a note of inclement weather, it decreased our vaccination sessions," he said.
Atienza said the heavy rains and flooding made it difficult for health workers to do house-to-house visits in search of eligible children and establish their temporary posts.
He said they remain optimistic about achieving 85 percent to 95 percent of the target population by June 15.
For now, what they have is a rough estimate as local government units were unable to send the total number of vaccinated children in their areas due to unstable or weak Internet connections.
The data received were likewise still subjected to verification if there were double entries.
Aside from the house-to-house visits, the regional health office deploys technical assistance and guidance teams to health workers in the conduct of the vaccination campaign. (PNA)