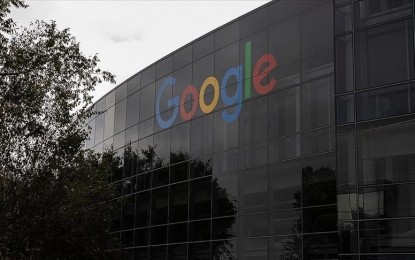 ISTANBUL – A healthcare company and three more firms will use Google's new generative artificial intelligence (AI) technology, the tech firm's cloud division announced Wednesday.
The technology, which is capable of generating text, images and media in response to prompts, uses models to learn certain patterns based on input and generates new data with similar characteristics.
Google Cloud said it partnered with four companies from health care and travel to aviation and photo editing, which will use generative AI technology.
"We're inspired by the ways customers are already innovating with these technologies," it said in a statement.
The world-renowned Mayo Clinic, which has dozens of hospitals across the US, has adopted the company's "Enterprise Search in Generative AI App Builder and will use the generative AI to help clinicians and researchers find information more easily and help improve patient outcomes, said Google Cloud.
The medical provider has a workforce of around 76,000 with approximately 1.3 million patients each year, said its website.
Priceline, the online travel agency, will also use generative AI across its businesses to create enhanced travel experiences for customers and improved workflows for employees, Google Cloud said.
While a full-scale travel assistant chatbot will answer customers' questions about trip planning, generative AI will offer personalized hotel booking for customers to find their preferred hotels by proximity to local attractions, restaurants and activities, it added.
PhotoRoom, an AI-based photo editing app designed for e-commerce businesses, will use Google Cloud and graphics processing to offer studio-quality images to businesses.
"We're already processing two billion images per year, and we expect that to double in 2024, as more businesses adopt PhotoRoom's generative AI technology. We clearly need a partner who can help us scale and meet the needs of our customers over the next few years," CEO Matthieu Rouif said in a statement.
GA Telesis, operating in commercial aviation services, said it will deploy Google Cloud's generative AI technology into sales and service processes for parts it supplies to major global passenger and cargo carriers.
"Responding quickly to customer requests on a person-to-person level is an absolutely critical part of our business and a key way we're differentiated. As we've grown, the number of inquiries for service and parts has increased exponentially," according to CEO Abdol Moabery. (Anadolu)